BYOM™
Restaurant Digital Menu Software
BYOM™—short for Bring Your Own Menu— is our core restaurant software tool. It has everything you need to get your menus on the cloud.
Digital menu maker software that allows you to create and display interactive electronic menus in less than an hour. The menus can be viewed by scanning a QR code, or they can be embedded on websites and shared on social media.
BYOM™ starts at $99/month for the Self-Service edition. The Enterprise edition starts at $499/month.
Includes hundreds of pre-made menu design templates and a bundle of printable QR code menu assets to quickly get you live. Access tasting notes and images for over 100,000 products to add alongside your own menu selections. The menus are compliant with the Americans with Disabilities Act (ADA), and promote sustainability practices.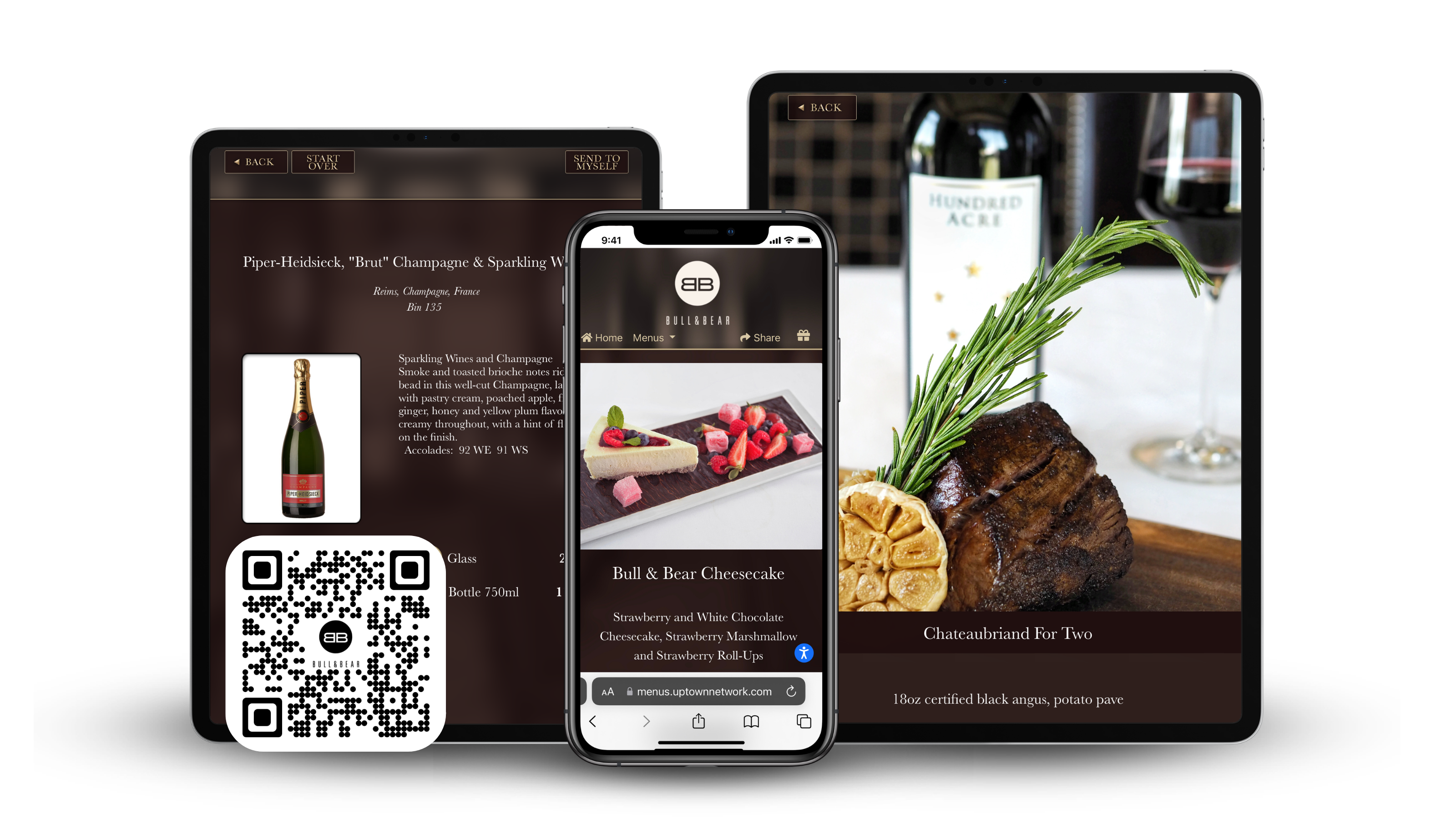 Combat Inflation, Labor Strains, and Supply Chain Challenges.
Make changes in as little as 30 seconds with digital menus. Run last minute specials or adjust your prices without printing costs cutting unnecessarily into your profits.
Your menu format is as flexible as you need it to be, and it looks like a real menu—not another piece of technology. Update your restaurant's menu across tablet, mobile, website, QR code, and social media menus all through one system.
Attract, Train, and Retain Top Talent.
High staff turnover cuts into the ROI of your training program. Digital menus present your menu in a visual, informative layout that makes it easier to train staff while also boosting your sales.
The sales boost isn't just for your bottom line—Increased check averages bring bigger gratuities, helping you attract and retain top talent. This more visual, rich-content approach creates great experiences with less training.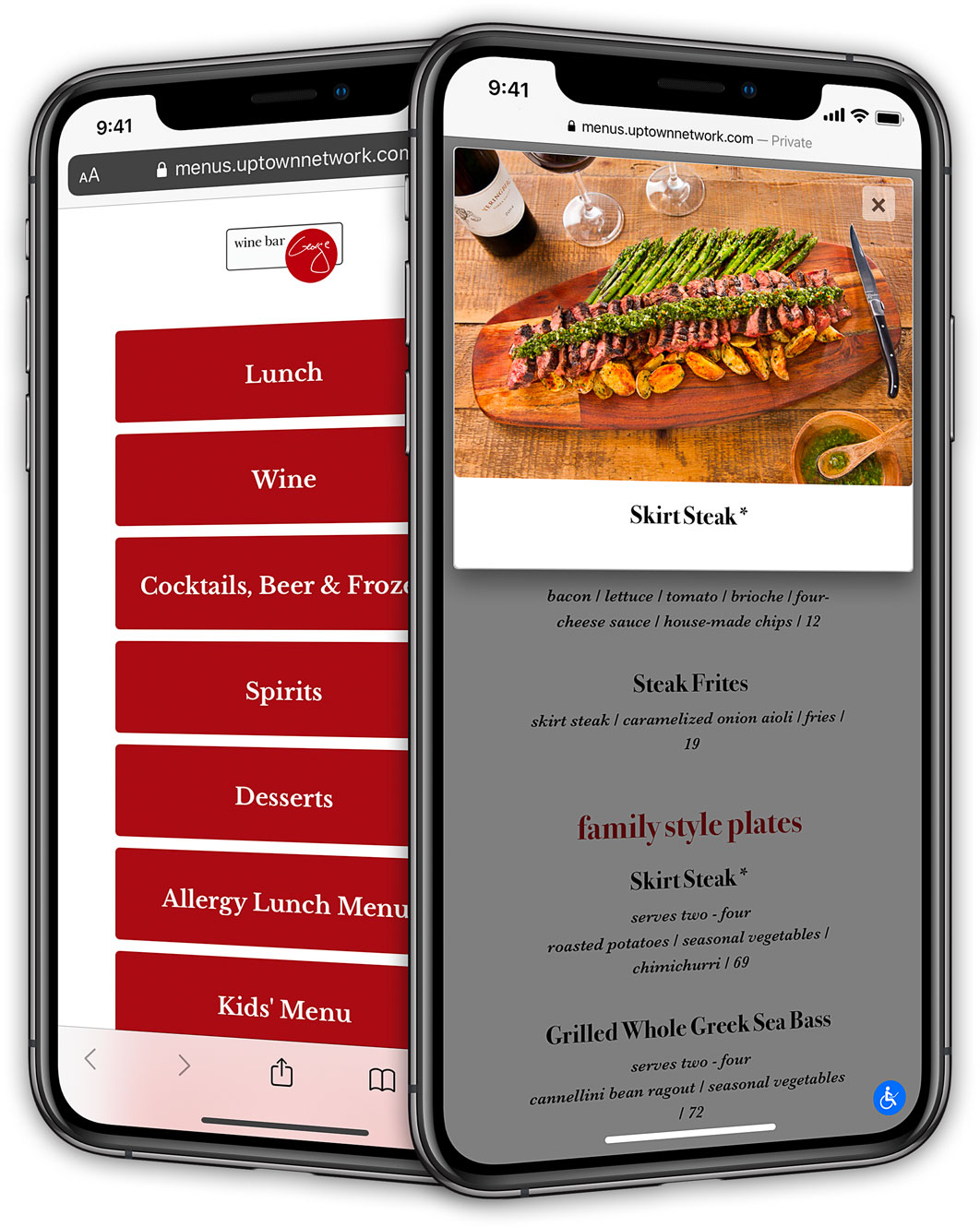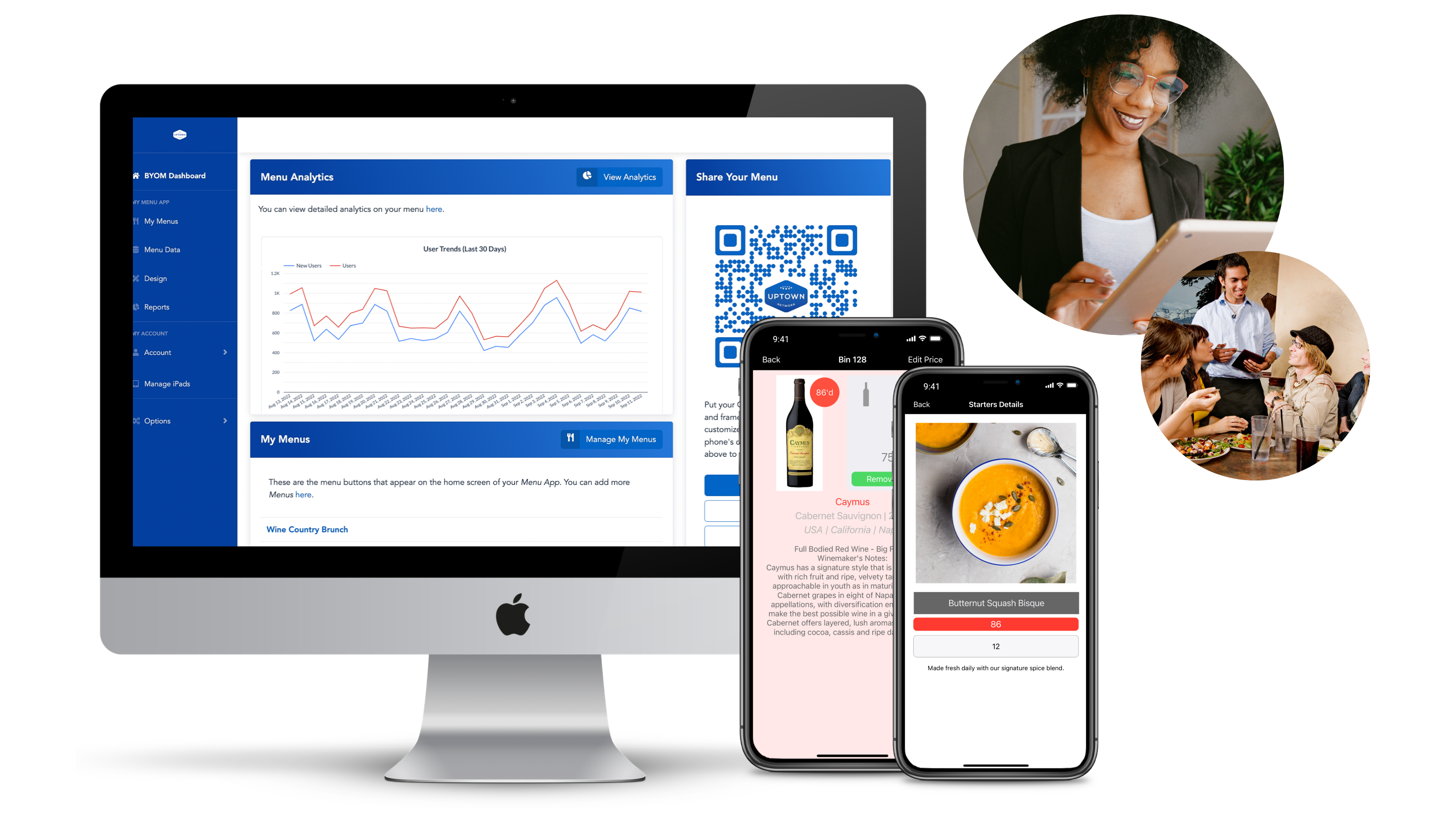 Menu Management Made Simple.
The BYOM menu management system is easy to create and even easier to manage. Enjoy access to the industry's best curated database of over 100,000 detailed tasting notes and images of wine, microbrews, whiskey, cigars and more.
Features such as daypart timers, Uptown's Menu Manager phone app, and automatic ADA compliance capabilities make it easier than ever for busy teams to manage their menus. Change prices, 86 items, or adjust selections in seconds from any device without interrupting service. Updates are reflected instantly.
Seamlessly integrate gift cards with your menu. Uptown Gifts transforms traditional digital gift cards into engaging, personalized experiences. Use Uptown Gifts as a standalone program, a complement to your existing loyalty program, or as a way to monetize your social media platforms.
Uptown Gifts turns restaurant menus and hotel amenities from cost centers into profit generators. From micro-gifts and curated dining experiences to personalized gift cards, Uptown Gifts reduces a touch point for your team and empowers guests to send thoughtful, unique gifts instantly.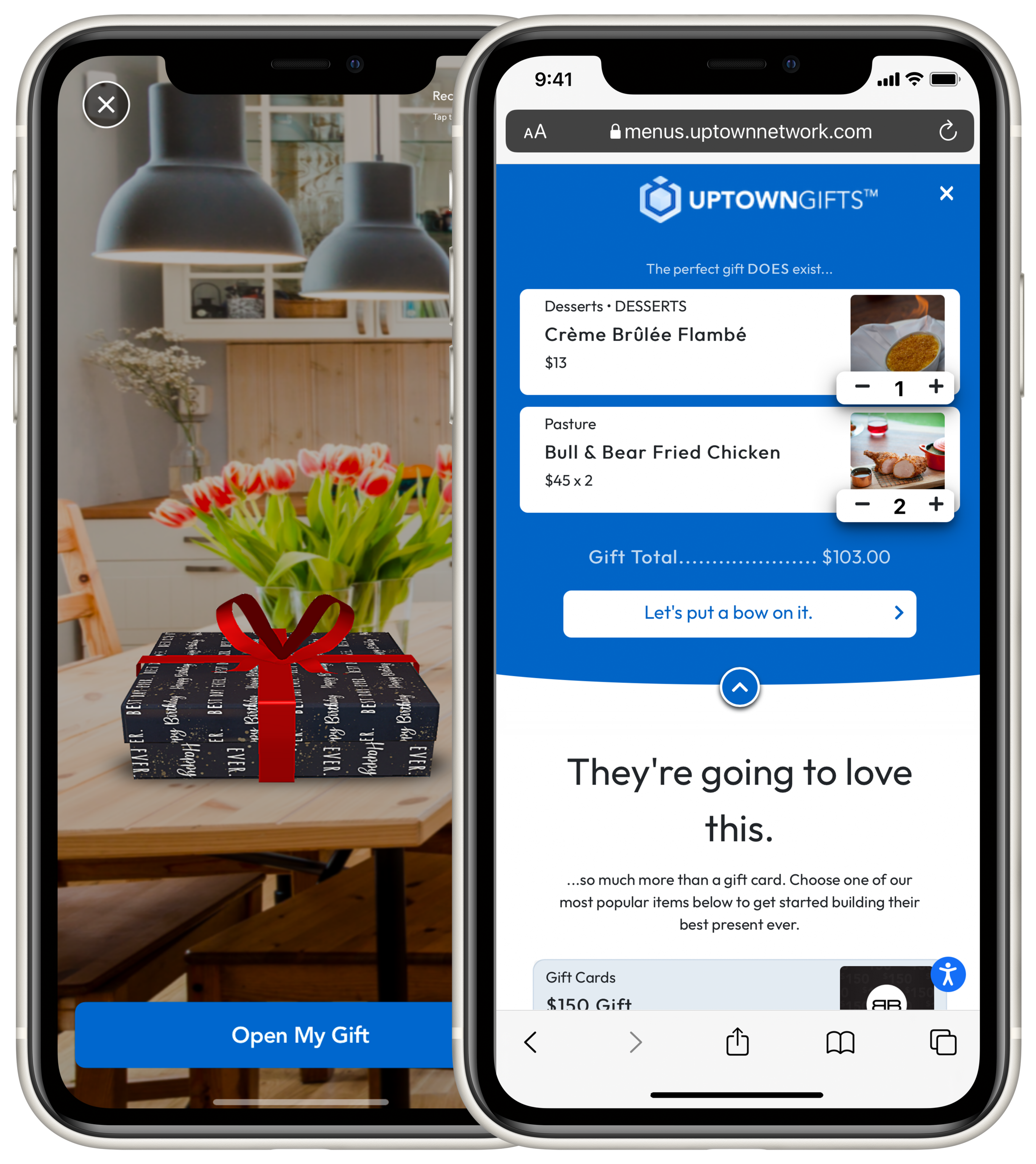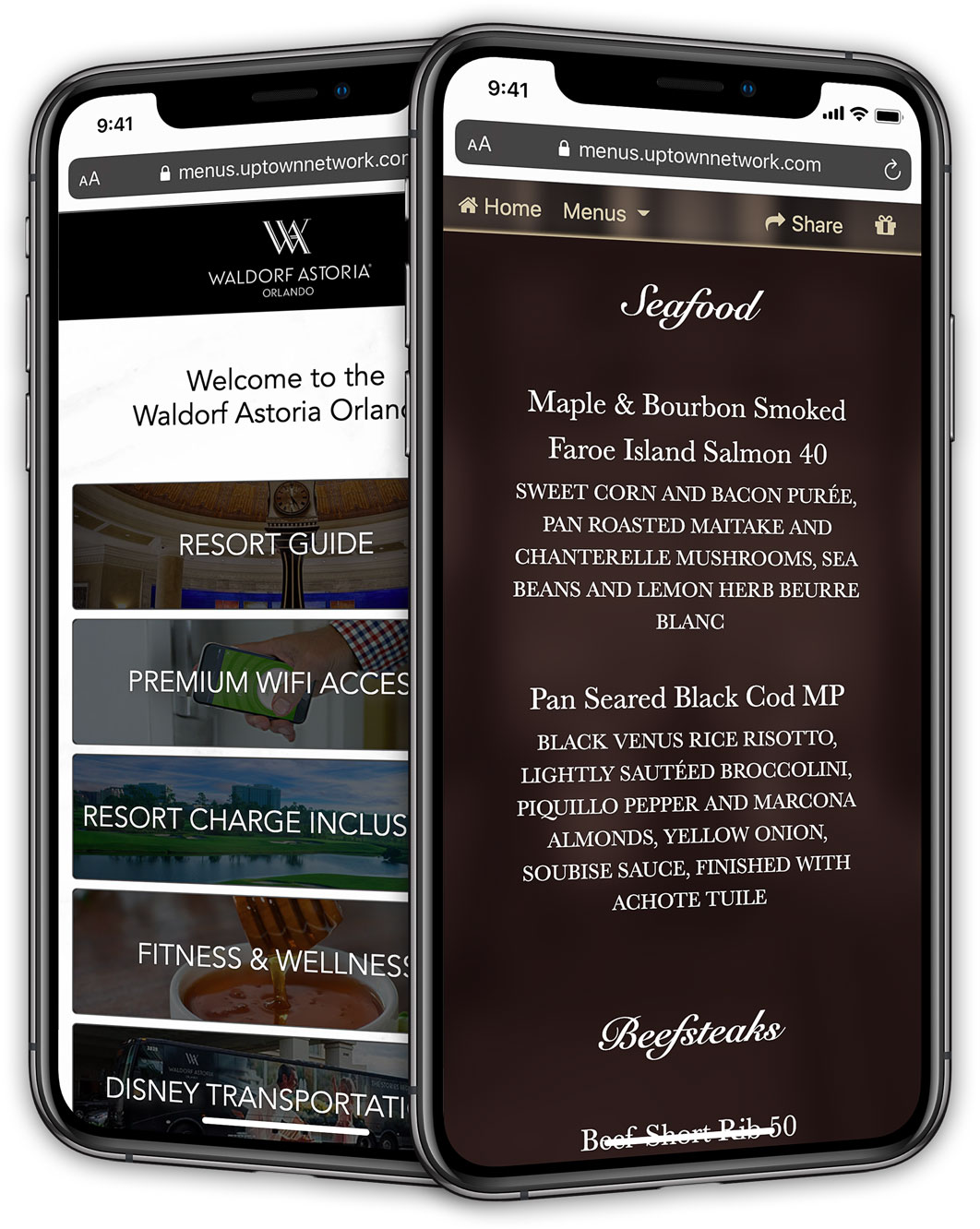 Customer Use Case
BYOM™ Integrates With Hotel Operations.
The Waldorf Astoria Orlando and Hilton Orlando-Bonnet Creek Resort in Orlando, FL are two examples of properties that are taking advantage of BYOM™'s integration capabilities. Linking your BYOM™ url and QR code to your hotel messaging system is simple. Keep check-in packages, spa menus, tee times, restaurant menus, and other guest amenity details all in one easy-to-manage place.
BYOM™ integrates with all major hotel messaging systems, including:
Restaurant Software That Fits Your Business
Start with our Self-Service model and upgrade to a full-fledged Enterprise membership, or hit the ground running with all the bells and whistles.
BYOM™ Self-Service
$99/mo billed monthly
Up-and-running in under five minutes, plus…
Put guests first.
Save on menu-related costs.
One-click menu changes done from any device online or through the Uptown Manager app for iOS.
Menus distributed digitally with QR code
Embed menus on websites and social media
Access to 100,000+ tasting notes and images for wine, beer, spirits, and more
Choose from hundreds of menu design templates
BYOM™ Enterprise
Starts at $499/mo billed monthly
Self-Service plan, plus…
We'll manage your menus.
All data entry and menu updates done by our dedicated Member Services team
Custom digital menu designs
Ongoing product support from our on-call team
Get access to add-ons.
iPad® Menus with custom covers and hardware support
5+ locations? Contact us for custom enterprise packages.