The Future Is Virtual Gifting
As COVID-19 restrictions loosen up and life begins to resemble "normal" again, businesses are reevaluating which of their social distancing technologies are here to stay and which will be reverting back to the way they were. Technology kept businesses going and provided new ways for people to interact, and we have seen many creative innovations come as a result.
Environmentally-friendly technologies were also introduced as industries sought to go contactless as much as possible. Throwaway paper menus were replaced with QR codes, and changes in food distribution put more consumers directly in touch with local farms. Many used the lockdowns as an opportunity to get outside, giving time to appreciate the beauty that was previously hurried by.
A global survey by management consultancy firm Accenture showed that consumers are taking into consideration ethical, environmentally-friendly products more than before COVID. Keeping the rapid adoption of new tech and sustainability expectations in mind, it's no surprise that digital gifts are the new buzz.
How Virtual Gifting is Taking the World by Storm
Enter Uptown Gifts: An augmented reality alternative to boring, plastic gift cards. Uptown Gifts offers personalized, fun gifting with the added benefit of being environmentally-friendly. Rather than piling up in landfills after use, gifts given through Uptown Gifts are instead saved digitally as a memorable keepsake.
The question then becomes: How is this different from an eGift card?
Gift cards have long had the reputation of being impersonal, but virtual gifting took this to a new level: "You didn't even have time to run to the store to pick it up?"
Solutions such as Uptown Gifts take the personalization of a handpicked gift and combine it with the ease of technology for a great experience all around. From playing a special video message to taking an augmented reality walk around the restaurant's dining room, it is a virtual gift experience like no other.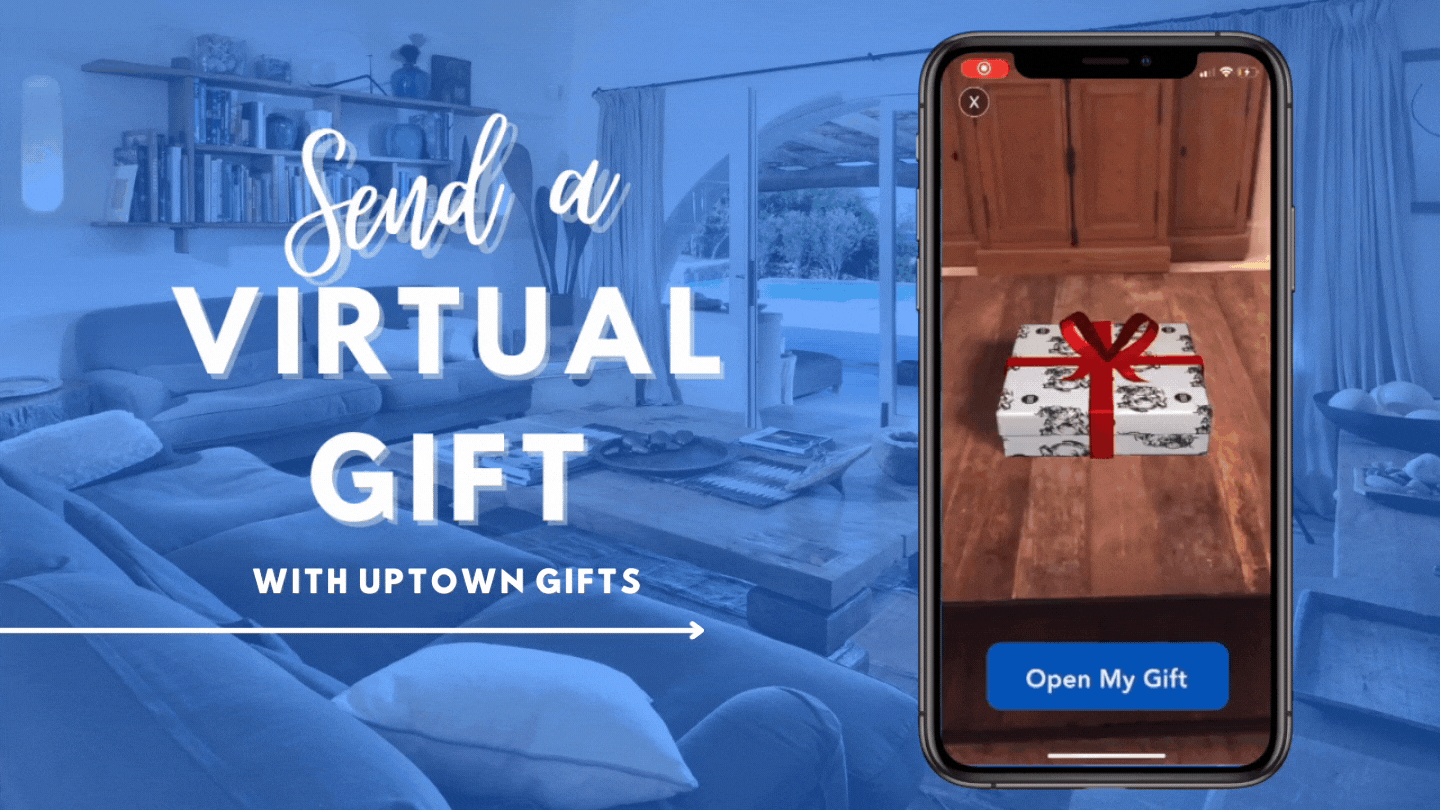 Versatile Platform for Businesses and Consumers
The hospitality industry is looking to recover revenues lost during the past year, requiring the implementation of low-cost, versatile products into their larger revenue recovery campaigns. Virtual gifting through a solution that maintains brand standard and adds to the guest experience is essential as restaurants, hotels, and cruise ships seek to enhance long-awaited guest experiences while still maintaining stringent safety regulations:
"BYOM has been instrumental in designing the 360-degree customer experience for our pioneering, vibrant restaurant brands. Virtual Gifting enriches the brands' promise and accessibility while offering new revenue possibilities for Titan."

James King, CEO of Titan Hospitality Group
In addition to the obvious sustainability benefit, businesses can use virtual gifting in their customer loyalty programs and guest recovery initiatives. At the same time, consumers are growing familiar with the platform, driving word of mouth and accelerating the adoption of this new revenue stream.
The Future Is Here
Virtual gifting is here to stay, and it is expected to become more and more innovative as technology advances. Generations both young and old benefit from this fun, sustainable alternative to plastic, impersonal gift cards, and the endless possibilities make it a no-brainer for businesses.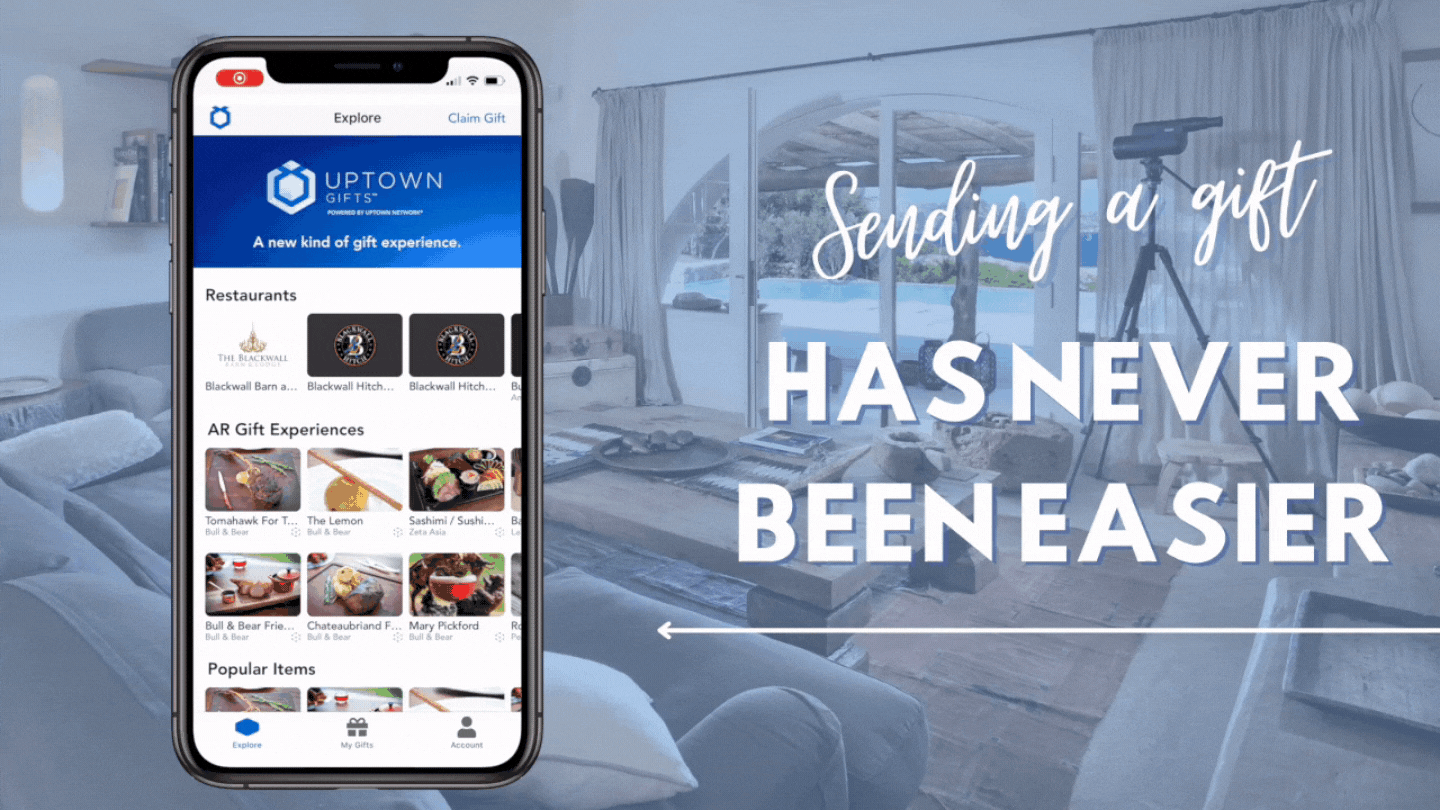 Uptown Gifts also offers a BYOM™ (Bring Your Own Menu) integration to turn menus from a cost center into a profit generator. Restaurant and hotel guests can easily choose any menu item and send it as a custom gift card in just a few simple steps. Created in partnership with Rock Paper Reality, Uptown Gifts provides top-tier augmented reality experiences for a truly memorable gift.
Uptown Network offers flexible, sustainable solutions for the hospitality industry. From restaurants and hotels to cruise lines and casinos, there is something for everyone. To date, over 35 million paper menus have been kept out of landfills, saving businesses an estimated $14M+ in printing costs. Learn about Uptown Gifts and more here.