The Power of Touchless Menus: A Game-Changer for Restaurant Social Media in 2023
In today's digital age, having a strong online presence is crucial for any business, including restaurants. One effective way to optimize your restaurant's social media is by incorporating touchless menus. 
These innovative menus not only provide a convenient and elevated dining experience for customers, but they also have the potential to attract more customers and boost engagement on your social media platforms. Discover the power of touchless menus and how they can take your restaurant's social media to the next level:
Shareable Menu In Your Social Media Bio
Social media platforms provide many opportunities for businesses to optimize their accounts and expand their reach. For restaurants, there are also great tools available to help share information such as menus, specials, and more all in a mobile-friendly format.
Uptown Network's BYOM solutions offer an easily shareable menu to empower guests to spread the word, turbocharging your digital word of mouth. This is especially helpful for friends planning a night out, a special family holiday dinner, and even businesses looking for a place to host their next company event. Just like regular sharing on social media platforms, your menu can be shared with friends and family all over the world. (See a live demo here.)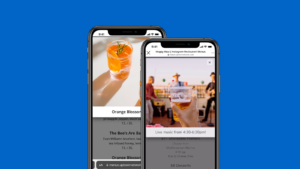 Instant Up-to-Date Information
Having an avenue to easily communicate menu changes keeps everyone updated with the latest seasonal, stock, and event changes. The flexibility also makes it easier to promote events and specials quickly without needing to contact your web designer. Rather than spending hours on design updates, simply input your information and watch it update instantly.
In addition to ease of use, showcasing images of your dishes helps to boost sales as visitors become familiar with your menu. Adding images doesn't need to be expensive—Even images taken with a smartphone help guests begin to visualize the dining experience at your restaurant.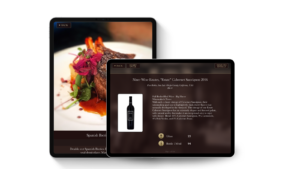 Encourage User-Generated Content and Reviews
One of the most effective ways to boost engagement on social media and attract new customers is by encouraging user-generated content and reviews. When customers share their experiences with your touchless menu on social media, it creates social proof and builds trust among potential customers.
To encourage user-generated content, create a branded hashtag specifically for your business. Encourage customers to use the hashtag when posting about their dining experience and offer incentives such as discounts or giveaways for those who participate. This will not only increase engagement but also create a sense of community around your touchless menu.
You know what can additionally help with user generated content? Including a photo app with your touchless menu. With Restaurant Memories, guests can capture fun moments, add a branded frame and post the picture to social media.
By actively encouraging user-generated content and reviews, you can leverage the power of social proof to attract more customers and boost engagement on your restaurant's social media platforms.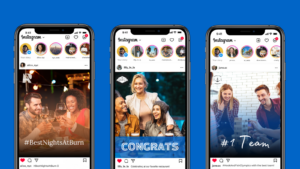 Make advertisement easy with built-in ways to expand your reach. Want to learn more about promoting your brand on social media with touchless menus? Contact Uptown Network today to start using digital menus to their fullest: