This Restaurant Photo App Is Making Guest Experiences More Memorable In 2023
With restaurants focusing on how to elevate the guest experience this upcoming year, it can be difficult to determine what the best approach is to enhance the guest experience without creating more work for already stretched teams. The use of social media continues to grow immensely, but most restaurants haven't yet discovered how to maximize their influence there. 
Fortunately, there's a new photo app for restaurants that is taking that need to capture special moments and empowering restaurants to turn those special memories into branded, user-generated content—making it fun for guests to share their experiences and helping restaurants saturate the online dining conversation.
Ready to learn more about this new guest experience technology? Follow along as we discuss three advantages of photo apps for restaurants:
Boost Digital Word-of-Mouth with Branded, User-Generated Content
Your guests already love capturing special memories, and your restaurant creates a lot of them. According to TripAdvisor's "Influences on Diner Decision Making" survey, 60% of U.S. diners say online photos influence dining decisions. Restaurant Memories, makes it easy for restaurants to turn guests' favorite memories into branded, user-generated content. 
Rather than being known by guest pictures of half-eaten food, Restaurant Memories helps you manage your online reputation by making it easy for guests to share branded images of their experience. A simple post on social media or sharing through other outlets boosts brand awareness and provides a memento for your guests to keep of their experience.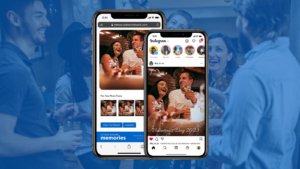 Bonus: Adding your branding to the custom photo frames makes your brand more recognizable and keeps you front of mind, boosting your digital word-of-mouth.
Enhance the Guest Experience to Attract Attention and Encourage Loyalty
As the business environment continues to change, restaurants are spending more time focusing on the guest experience. Enhancing the guest experience not only attracts attention, but it also encourages guests to become loyal customers at your restaurant. 
The Restaurant Memories photo app provides an opportunity for guests to end their meal with a picture that captures the memory. Integrating this guest experience tool is simple: 
Encourage servers to ask if guests want a photo before or toward the end of their meal.

The photo is then easily sent from the iPad to guests.

Guests receive a link to view their photo and choose their preferred frame. 

Guests save their photo and share with friends!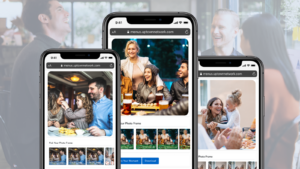 Additionally, using technology instead of the traditional camera option reduces your upfront costs as well as the costs associated with offering branded photos. You will never need to restock photo paper and ink, and guests are given their memento digitally, making it convenient for them to save and share their photos.
Invest in Guest Experience Technologies to Create the "Wow" Factor That Delights Guests
Technology for restaurants doesn't need to be boring or solely task-oriented. By incorporating simple, relationally-focused perks, you bring back the personalized aspect of dining that guests have come to miss. 
Investing in guest experience technologies helps to enrich the hard work you already pour into your restaurant and adds fun features that elevate your restaurant's overall reputation and dining experience. The Restaurant Memories photo app is a great way to easily upgrade how your restaurant uses technology to create the "wow" factor that delights guests. 
Want to learn more about Uptown Network's Restaurant Memories photo app? Learn more here: