This New Guest Experience Technology is a  Memory Maker for Guests
Rather than being known by pictures of half-eaten food, restaurants can easily saturate the online conversation with branded images of special guest memories through innovative guest experience technology.
Adding a guest experience photo app alongside your digital table menus elevates your business' guest experience and marketing efforts. Here are three reasons why your restaurant needs to start implementing a guest experience photo app today:
1. Effortless User-Generated Content
Restaurant photo apps allow guests to easily capture special moments from their dining experience. Create core memories for every customer while they post restaurant-branded photos to social media.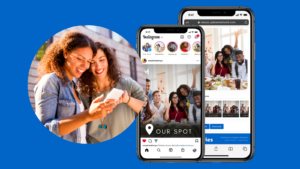 Adding your branding to the custom photo frames makes your brand more recognizable and keeps you front of mind, boosting your digital word-of-mouth. User-generated, branded content is made possible through restaurant photo apps and makes your marketing personable while expanding your reach.
2. Digital Word of Mouth Made Easy
It's easy to turbocharge word of mouth with the help of Uptown Network's Restaurant Memories!
Boost your brand's online reputation and seamlessly bolster your marketing team's efforts. Restaurant Memories provides the hospitality industry with branded, user-generated content by capturing special dining experiences and making them easily shareable for guests. Utilizing a guest experience photo app conveniently helps your restaurant with marketing while providing guests with memories they can keep.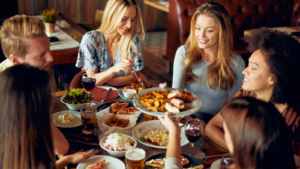 3. Influencer-Ready on Every Occasion
Restaurant Memories brings social media beyond the usual blurry pictures of food and connects your restaurant with guests' social presence on an emotional level. Themed frames make it easy for you to keep your restaurant influencer-ready for every holiday and event. Empower guests to get the word out about their favorite restaurant in town, so everyone knows you're the place to be.
According to TripAdvisor's "Influences on Diner Decision Making" survey, 60% of U.S. diners say online photos influence dining decisions. With the help of Restaurant Memories, creating branded hashtags, utilizing the location filter and starting a social media giveaway are all ways to utilize platforms in your restaurant's favor.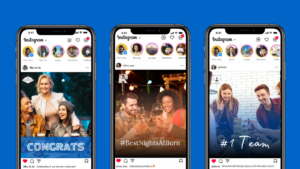 The Restaurant Memories photo app helps you expand your reach as you manage your online brand reputation—promoting more engagement and increased traffic. Topics that relate with users in a brand's social footprint are more likely to rise to their attention. 
Not only do digital menu tablets elevate the dining experience, but including fun extensions like Restaurant Memories also helps to increase your reach and benefit your brand.
Interested in implementing a guest experience photo app in your restaurant? Learn more about Restaurant Memories today: