Must-Have Restaurant Technology in 2023
Bring on 2023. With the new year here, new ideas and innovations are on the horizon! Easily manage costs and give the best guest experience yet by upgrading your restaurant technology.
Don't know where to start? We have you covered. Below are the top restaurant tech trends for 2023 that will benefit your business:
1. Digital Menus are helping restaurants manage costs and enhance the guest experience.
Not only are digital menus easy to use, but they can also be designed to look like a real menu. Utilizing iPads gives guests an elevated dining experience while empowering your team to boost sales through the technology's natural upselling format. 
Digital menus have proven to be an effective tool for both guests and staff as they maintain the dining ambiance that guests know and love, while also including features such as beautiful images and informative descriptions. Additionally, digital menus give restaurants flexibility to manage menu items and prices on the fly, and staff benefit from higher tips as check averages increase.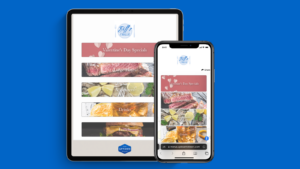 QR codes are another form of digital menu that have provided the restaurant industry with a fast, convenient means of offering contactless menus. They can help the guest experience and cut down on restaurant paper usage if the QR code menu is from software created specifically for restaurants. QR codes leading to PDFs on the other hand won't last:
"In the restaurant setting, QR code PDF menus often fail to provide a multi-dimensional experience and seem to only showcase a utilitarian one-way PDF menu that is hard to absorb, difficult to navigate and that often leads to frustration and aggravation for the customer, the opposite of a positive hospitality experience." – Ellenbogen in QSR Magazine article,"Don't Close the Door on QR Codes Just Yet".
QR codes aren't going anywhere anytime soon because of their practicality, but the guest experience can only be improved with QR code menus that are designed with the restaurant guest's navigation in mind. QR codes are designed specifically for restaurants through software such as BYOM™, making the menus easy and seamless for employees and guests.
2. Virtual Gifting moves into guest loyalty and retention, while still providing a more creative alternative to e-gift cards.
Digital gifts are an improved giving experience in comparison to plastic or even e-gift cards. Features such as custom video messages and augmented reality present opening experiences help to make these new virtual gift cards a truly special gift.
Plus, virtual gifting offers creative ways for restaurants to enhance their loyalty and guest recovery initiatives. It's an easy feature to add to your restaurant that brings big advantages for your business.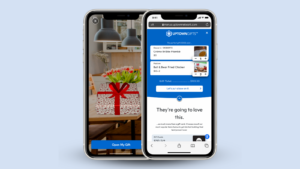 Depending on your restaurant, you can put fun bundles together, such as birthday celebrations, girls' night out packages, wine pairing experiences, tee times from your on-site golf club and more. The sky's the limit!
3. Virtual Wine Lockers are making wine locker management easy for restaurants and private clubs across the country.
Wine lockers provide guests the opportunity to showcase wines, and their lockers can be physical, virtual or both. Virtual wine lockers give a sense of belonging and prestige, and they boost guest engagement as guests have a tangible reason to frequent your location.
Furthermore, virtual wine lockers are helping restaurants and private clubs across the country easily manage their locker program. Virtual wine lockers make it simple to manage locker contents, track wine additions and consumptions, and manage locker renewal fees all from the same system. They are easy to implement in both new and existing wine locker programs, and guests love the high-end experience.
Virtual wine lockers also become a type of social media for wine lovers in restaurants that encourage interaction between locker holders. In all settings, having a wine locker that is virtual makes it easy to share with anyone and gift to family, friends and colleagues.
4. Pay-at-Table continues to be a convenient choice for diners—provided it's seamless and intuitive.
New restaurant technology should make your life easier, not harder. During the pandemic, pay-at-table became a popular tool, and it continues to make dining experiences more convenient.
A seamless and intuitive contactless payment system will do everything that traditional payment can do. Guests can easily split checks, tip servers, redeem gift cards, and pay all without the help of your staff. Check out Uptown Network's pay-at-table to turn tables faster, increase average spend, and increase tips for your staff.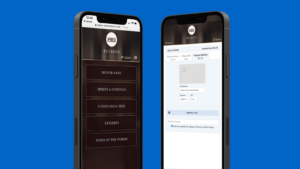 Start the year off right with the best hospitality technology. Looking to find all of these in one place? We've got you covered! Learn more about Uptown Network today to upgrade your menus in 2023: