When I look back at cocktail garnishes I used in the past in comparison to today, it blows my mind.  In the beginning of this adventure behind the bar, a garnish was either a football-shaped lemon or lime, a half-moon orange, a neon red cherry, or some olives that should never have been consumed by anyone. Oh, and sometimes, if you were lucky enough to be in a better establishment, some mint for your mojitos and blue cheese olives.  The times have changed! We are seeing not only a surge of amazingly crafted cocktails, but also an array of stunning glassware and colorful, unique ways to dress them up and elevate them to works of art.
What shocks me even more is as important as that first sip is, the WOW factor it brings along with it is becoming more important. Smoke, fire, and ice are all collectively pulling us in before we even experience that first sip.  We find ourselves drawn into the cocktail before even knowing what it is. Garnishes have certainly come a long way in the years past. The art of garnishing your cocktail creations has become just as tedious as creating the drink itself.
I believe the garnishes we choose to represent our work need to intrigue all the senses. All of us know the basic senses; sight, touch, smell, taste, and sound, but what do I really mean by adapting those to garnishing a drink?  I want to illustrate how each of these senses, when used in terms of our garnish art, lures the guest in and propels them to take the plunge into that cocktail.
I already mentioned the days of that football-shaped lump that sat on the rim of a margarita with some salt… Pretty blah.  The visual cues you receive from your drink make you want it that much more. When a tableside dessert floats across the restaurant to a table beside us, before knowing any of the ingredients, we want one too because it is visually stunning.  As our cocktails leave on service trays everywhere, they should be just as stunning.  They should be perfectly manicured and set out to impress. Theatrics like dry ice, lighting, and smoke are all ways for your cocktail to make a grand entrance.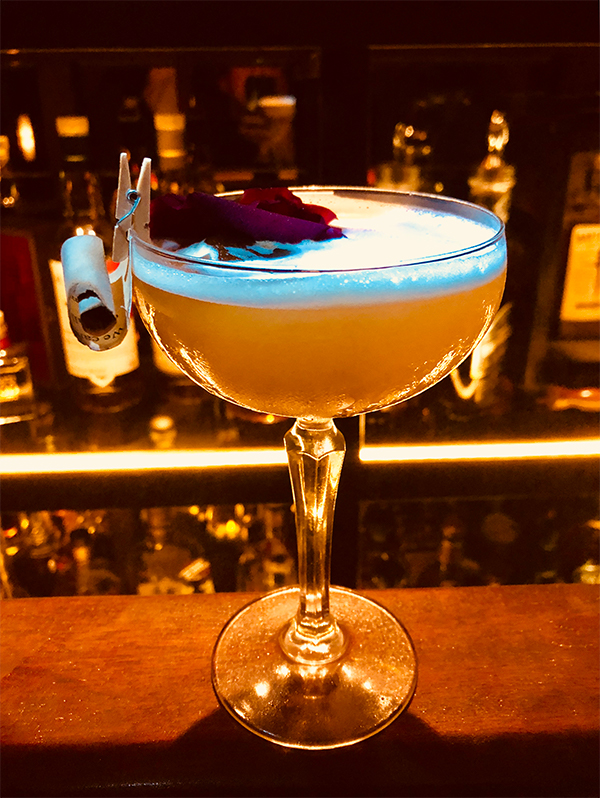 Touch can seem a bit weird at times when thinking about how to garnish a cocktail, so let me give an example. Recently I used a metal pirate ship, along with a red light and some dry ice to make this crazy scene right out of a storybook. It was made to look as if it was sinking from cannon fire. Now of course, you could say this was all the visual aspect, but the guest had the interaction of touching and feeling that metal ship. They loved it! Picking it up and seeing all the intricate details, many guests where too busy to even taste the drink, they just thought the ship was that great.
Smells are a huge contributor to how we are going to perceive our first sip. Think about this, if the glass you are about to drink from smells musty, how likely are you going to enjoy whatever is in it? So let's take that same concept and flip it around. Now, instead of the glass smelling of something foul, it has a beautiful aromatic to it. One of the things I do quite regularly, and teach others, is spritzing the glass with an atomizer. I may use orange water to highlight an old fashioned, or rose water to accentuate the floral bouquet of the ingredients I have used in the glass. I have even found using a lemon spritz to the glass of my manhattans draws the guest into a sensory overload of pleasure. Again, it adds one more layer of complexity to your cocktail, added on later, as a garnish.
Tastes are tricky. Is the garnish we are using for the drink going to elevate the taste or be moved to the side?  It is crucial to remember the garnish is in the cocktail; it will lend flavor. Here is a simple example: Hendricks and Tonic. Just slapping a lime wedge on the side of the glass and calling it a day is a disservice to our guests. Why not make a beautiful cucumber ribbon, elegantly highlighted with a rose petal? By doing so we have just accentuated two of the main ingredients advertised in Hendricks Gin campaign. Taking the time to communicate and educate our guests that the reason they may love a particular spirit being used, with all of it's botanicals and makeup, is the reason we are bringing forward those same elements as a garnish to emphasize all the wonderful flavors.
I left sound for last. How should your garnish sound? As if it can talk. Maybe if your cocktail is served in a dinosaur-shaped mug that roars when you lift the lid. What if your drink comes with its own chant or toast unique to its experience? Ever hear of a Sake Bomb? Sound could just as well be the whispers or compliments your drink receives from those around you. After all, when everyone at the table is telling you how amazing your drink is, aren't you already prepared to enjoy it just a bit more?
It seems like so much to take in, and it is. Preparing the ultimate cocktails for our guests is a challenge. Garnishing and displaying those works of love is even more challenging. When you look in terms of sensory, it can all be put into perspective. I want to overload the guest each and every time. I always say if I could have a unicorn burst out of the drink last minute, I would. I want to give my guests every bit of passion in that glass. Not just the drink, but also the sight of it, the smell of it, the feel. Overwhelm your guest each time and it will always pay off!
Remember, "It's a zoo out there, don't drink like an animal!"
Until next time, here's to you!
Justin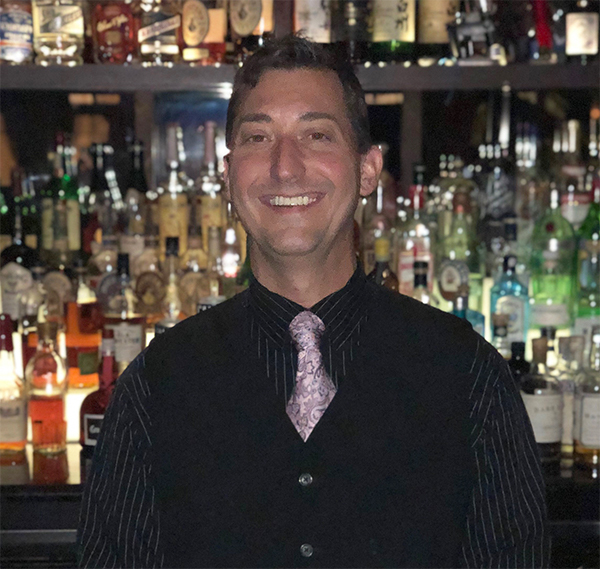 About Justin Newman
Justin S. Newman is the award-winning Head Mixologist for the acclaimed Bull and Bear restaurant and Head Mixologist for the Waldorf Astoria Orlando, Florida.