Revolutionize Your Restaurant with Digital Menu Software
In today's fast-paced world, customers expect convenience and efficiency when dining out. That's where digital menu software comes in.
With this technology, restaurants can streamline their ordering process, reduce wait times, and provide a more engaging dining experience for their customers. Learn more about the benefits of digital menu software and how it can help take your restaurant to the next level.
What Is Digital Menu Software?
Digital menu software is a technology that allows restaurants to display their menu on digital screens, such as tablets or smartphones, instead of traditional paper menus. This software can also include features and integrations, as well as customization options for customers. 
By using digital menu software, restaurants can improve their efficiency, reduce errors in orders, and provide a more interactive and engaging experience for their customers.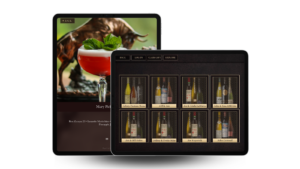 Benefits Of Using Digital Menu Software
There are many benefits to using digital menu software in your restaurant. All aspects of using this technology lead to an elevated customer experience and with the right digital menu, the advantages are endless.
First and foremost, it can improve the efficiency of your operations by reducing the time it takes to process payments leading to faster service and happier customers. With BYOM™ menus, digital menus can be updated in real-time, allowing you to make changes to your menu without having to print new menus. This saves you money on printing costs and reduces waste.
How Digital Menu Software Can Improve Customer Experience
Not only are digital menus easy to use, but they can be designed to look like a real menu (not a piece of technology). Uptown Network digital menus bring a modern twist to the traditional menu.
The menu look maintains the dining ambiance that guests know and love, while enhanced features such as enticing images and informative descriptions encourage upselling and provide an overall enhanced guest experience. Wine lists provide informative descriptions, so guests feel they have made an educated decision with their order.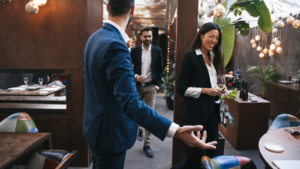 Integration With Other Restaurant Technologies
Today's digital menus offer add-ons to further round out your restaurant's guest experience technology. What are these add-ons you ask? 
A great addition to any digital menu is virtual gifting. Guests will enjoy this new way of giving gifts and it helps bring in more revenue for the restaurant. Features such as custom video messages and augmented reality present opening experiences help to make these new virtual gift cards a truly special gift. 
Virtual wine lockers are also an amazing integration to add. When guests have personal wine lockers, they have a strong connection to your restaurant. They give a sense of belonging and prestige, and they boost guest engagement as guests have a tangible reason to frequent your location. Pay-at-table is also a great option. Contactless payment can do everything that traditional payment can do. Guests can easily split checks, tip servers, redeem gift cards, and pay all without increasing the workload that's already on your staff.
Integrations build the experience while it helps restaurants add value to their brand and revenue.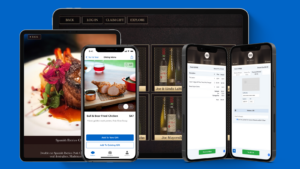 Digital menus for restaurants are the hospitality industry's top software add for 2023. The numerous benefits make them key to elevating your brand and customer experience.
Uptown Network's team of experts is available to help you build the best digital menu bundle for your restaurant. Learn more about BYOM today and contact us here to start: