The Key to Guest Success: Digital Menu iPad
Digital menus are on the rise as businesses are looking for the best way to implement restaurant industry technology, and they are making an impact on not only employee experiences but also guest success. When your offerings are displayed on a digital menu iPad, guests will have a hard time going back to basic paper menus.
The innovative digital menu iPad will bring many benefits to your business and it's a tool that keeps on growing to meet your restaurant's needs. Want to learn more about the power of digital menus? Follow along below:
Integrations with a digital menu iPad are a big advantage when it comes to adopting technology in your restaurant. You no longer limit yourself to just a dirty, outdated paper menu. 
Digital menus create other opportunities to add solutions like virtual gifting, pay-at-table, virtual wine lockers and a photo app to your dining experience. Integrations are seamless to add when using Uptown Network's BYOM™, short for Bring Your Own Menu. 
Uptown Gifts is a great feature to send gift cards with an immersive experience and eliminate the use of plastic. On the other hand, Pay-At-Table allows guests to easily use contactless payment which relieves stress for employees and creates a smoother experience for your guests.
Virtual Wine Lockers are designed to allow guests to use it as their very own social media for wine lovers and get all the benefits of a wine locker program without the upfront cost of building physical wine lockers. Lastly, the Restaurant Memories photo app helps you expand your reach as you manage your online brand reputation. You can easily saturate the online conversation with branded images of special guest memories.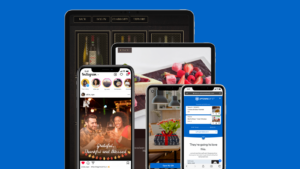 Easy to Use for Both Guests and Employees
The digital menu iPad makes every experience easy and seamless for both guests and employees. It makes ordering and managing a breeze while taking menus up a notch.
With vibrant images and detailed descriptions of your menu items, guests can easily browse and select their desired dishes. They will never be left wondering what their order will look like because a beautiful image of the dish is provided.
Tired of the hassle of manually updating and reprinting your menus? Employees are given an easier way to handle menu management with digital menus. One of the advantages of offering a digital menu iPad for restaurants is that digital solutions make it easy to change prices, 86 and un-86 items, and adjust selections in a matter of seconds. The ease of use takes the friction out of these unavoidable tasks, which is priceless for your team.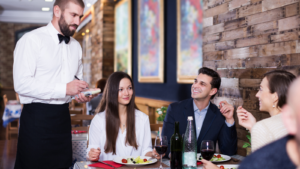 Leaves a Lasting Impression
When guests think of your restaurant, they will think of the details that made the experience worthwhile. The digital menu iPad is a tech solution that will leave guests with a lasting impression of your business. Ordering will never be the same and guests will be left with an elevated expectation for their future hospitality experiences.
Stand out and set your restaurant on another level with digital menus.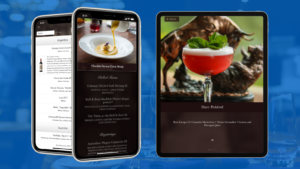 Looking to start using a digital menu iPad system for your business? We have just the menus for you!
Don't waste another second on boring paper menus. Learn more about Uptown Network and our tech solutions here: