Tablet Menus For Restaurants That Will Enhance The Holiday Season
One more month until the holiday season officially begins! The countdown is on, giving hospitality leaders enough time to implement tablet menus in their restaurants to maximize their revenue and elevate the guest experience. 
Need more convincing? During this busy season, restaurants will see the advantages digital menus bring not only for menu management but also for enhancing the holiday season for guests:
Guest experience technology has a major impact on restaurants. It makes or breaks the experience your restaurant provides and can further your brand as a top choice for dining.
Uptown Network's BYOM™ digital menus bring just that and more. Tablet menus for restaurants present your menu in a visual, informative layout that creates a seamless ordering experience for guests. From beautiful menu images to detailed descriptions, guests won't have to wonder what their food will come out to the table like. Digital wine menus are also taken to the next level by providing guests with curated tasting notes, allowing guests to make more informed decisions and explore wines that they otherwise might not have tried. Pairings no longer have to be stressful and upselling is a breeze.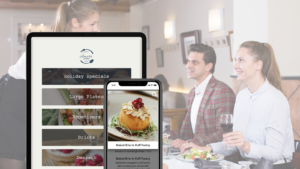 Increase gifting sales while providing guests with an alternative to plastic gift cards…Sounds like a win for all!
Tablet menus for restaurants make it easy to integrate Uptown Gifts, a virtual gifting solution, allowing guests to send fully customized, thoughtful gift cards directly from your menu in augmented reality. Perfect for Thanksgiving and Christmas!
Customers browsing your menu can bundle any of your restaurant offerings into a gift. The gift is sent like a regular eGift card, but with a few special twists like video messages and wrapping paper! Plus, augmented reality (AR) can be added to the gift for an even more exciting bonus.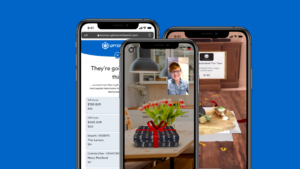 Snap a holiday picture for guests to post on social media! Empower guests to get the word out about their favorite restaurant in town, so everyone knows you're the place to be for the holidays.
Restaurant Memories can easily integrate with tablet menus for restaurants, making it the top photo app to boost your digital word of mouth seamlessly. Branded frames with customizable options for guests make it a fun and useful way for user generated content to be created.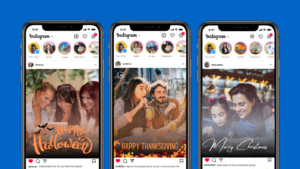 The holidays are around the corner making now the perfect time to include tablet menus for restaurants as a way to boost sales and enhance the guest experience.
Want to learn more about Uptown Network's digital menus? Look no further, we have just the tech solutions for you: