The Power of Enterprise: Best-In-Class Digital Menu Experience
With the rise of technology, digital menus have become a popular choice for the hospitality industry. Not only do they offer a modern and sleek look, but they also provide numerous benefits for both customers and restaurant staff. With the rise of restaurant and hotel chains adopting digital menus, there are now enterprise packages available to easily implement digital menu service in your business.
In this article, we'll explore why a digital menu is a must-have for any restaurant and how best-in-class service for staff can boost the experience:
Convenience and Increased Efficiency
One of the biggest benefits of a digital menu is the convenience it offers to guests. With a digital menu, customers can easily browse through the menu items, filter, and even browse through beautiful images and curated tasting notes. Additionally, digital menus can be updated in real-time, ensuring that customers always have access to the most up-to-date menu items and pricing information. For restaurants and hotels, this translates into sales increases of an average of 20%.
Staff also enjoy the easy to use product while benefiting from ongoing product support from our on-call team or Menu Manager phone app, bringing even more convenience to the workplace. It's convenient and efficient for management to easily reach out for questions or tips to expand their menu's possibilities for a better guest experience. For brands that have menu permissions set at the corporate level, staff is given the appropriate permissions while our Member Services team coordinates corporate-communicated changes.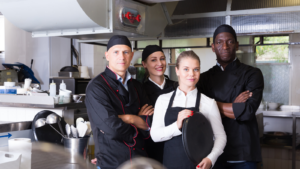 Flexibility and Customization
One of the many advantages of a digital menu is the flexibility and customization it offers. With a digital menu, restaurants can easily update their offerings, prices, and specials in real-time, without the need for reprinting physical menus. This allows for greater flexibility in responding to changes in inventory, seasonal ingredients, or customer demand. Even better, enterprise subscriptions give you world class support to manage price tiers and item changes across all of your locations.
Overall, a digital menu offers restaurants the ability to adapt quickly and stay competitive in an ever-changing industry. Plus, with a strong enterprise program, you and your staff will never be alone when it comes to making impactful changes to your menu!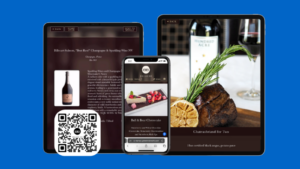 A digital menu can greatly enhance the visual appeal of your restaurant and create a more modern and sophisticated atmosphere. With the ability to display high-quality images and descriptions of dishes, customers can get a better sense of what they are ordering and be enticed to try new items. 
Additionally, digital menus can be designed to match the branding and aesthetic of your restaurant, creating a cohesive and professional look. With an Uptown Network enterprise subscription package, custom digital menu designs are included so your restaurant can stand out from the rest.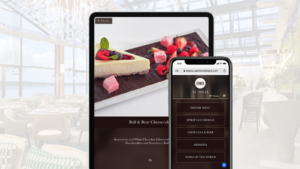 Hit the ground running with all the bells and whistles when it comes to your digital menu. The power of enterprise is combining world class support with revenue-boosting initiatives for your luxury brand.
See for yourself today! Learn more about Uptown Network's digital menus: