Why Virtual Gifting is the Perfect Complement to Gift Card Programs
Gift card programs pull significant revenue for restaurants and promote brand awareness, but plastic and eGift cards have grown stale in the age of sustainability and augmented reality. With minimal personalization and a lack of key business insights, there is a largely untapped opportunity for businesses to become a meaningful part of consumer habits.
Virtual gifting is the answer to that, and it's taking the gifting world by storm.
How exactly does virtual gifting change the game for businesses? Here are three reasons why virtual gifting is the perfect complement to existing gift card programs:
Fun & Flexible
There's nothing worse than wanting to send someone a small thank you, only to find that there aren't any personal, budget-friendly options to choose from. Integrating virtual gifting with your gift card program opens new opportunities for exciting, flexible options for guests, making it a staple in their go-to gift shopping.
Virtual gifting changes the game by making it possible to gift both dining experiences and micro-gifts. Spend $100 for a meal or $15 for a special cocktail. For businesses, it's the easiest way to take advantage of both market opportunities.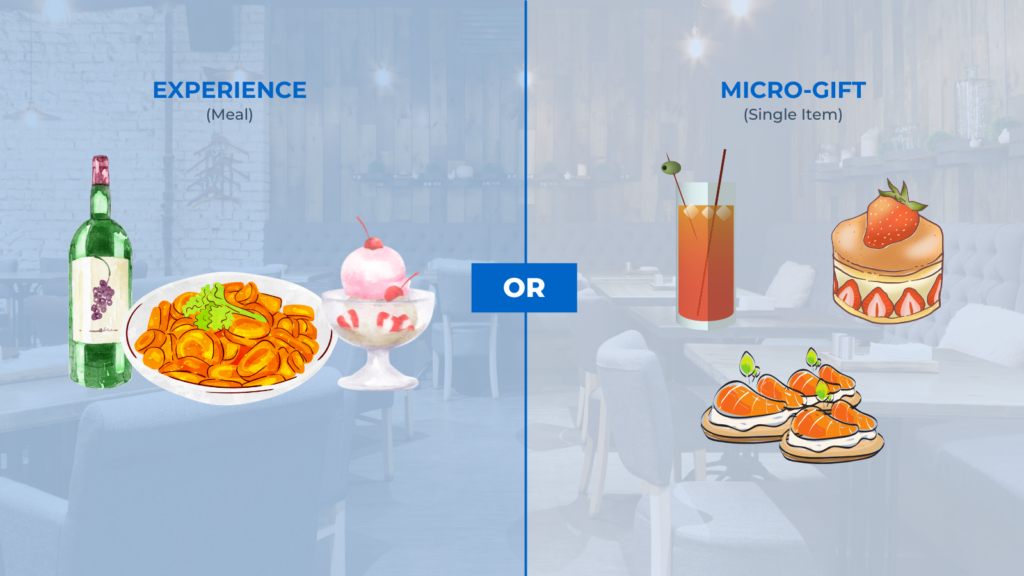 These options empower guests to purchase gifts for occasions big and small—which also provides automatic content generation for your marketing efforts. Remind your fan base that you have flexible options for everything from major holidays to small "congratulations!" after a meaningful milestone.
Virtual gift cards make gifting fun and engaging again. Each gift is impactful, and the micro-gifting platform encourages add-on purchases when gift recipients go to claim their gift.
A Better Guest Experience
Have you ever received a gift card and thought: "Wow, that was cool!"
If not, here's where you start.
With Uptown Gifts, gift senders select their wrapping paper and leave a video and/or text message with their gift. Senders can even purchase a dish with instant augmented reality views of the restaurant right from their living room. Can your plastic gift card do that?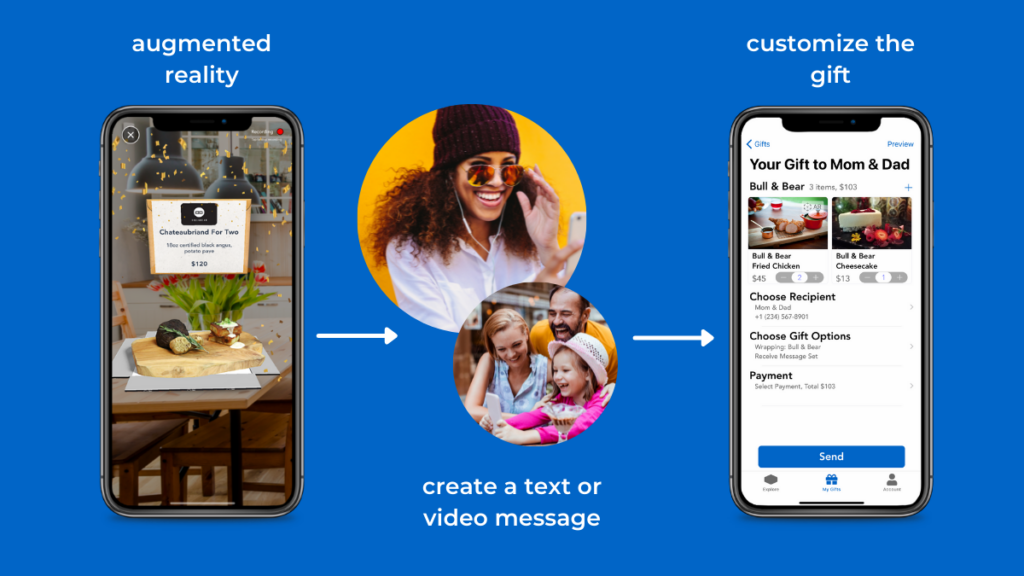 Virtual gifting is different from most eGift cards. A standard digital gift card will only send the amount of money given and maybe a cute jingle. Now, it's easy to up your gifting game to reel in new revenue and provide memorable guest experiences.
Exponentially Expand Your Reach
The real power of gift cards is that they bring new customers to your business. Like a referral program, a guest who enjoys your business will feel more inclined to share their experience with friends. This opens the door for restaurants to gain more loyal customers and exponentially grow their reach. New guests mean more revenue.
Virtual gifting is a low-touch, high-engagement format. Providing an interactive virtual gifting experience attracts more gift card purchases and creates a buzz around your business.
Guests will want to buy a gift card when they know the experience starts from the moment the gift is received. It's neither boring nor basic. Instead, virtual gift cards are meant to be shared, and the format makes it easy for gift recipients to show off this new gift experience to their network.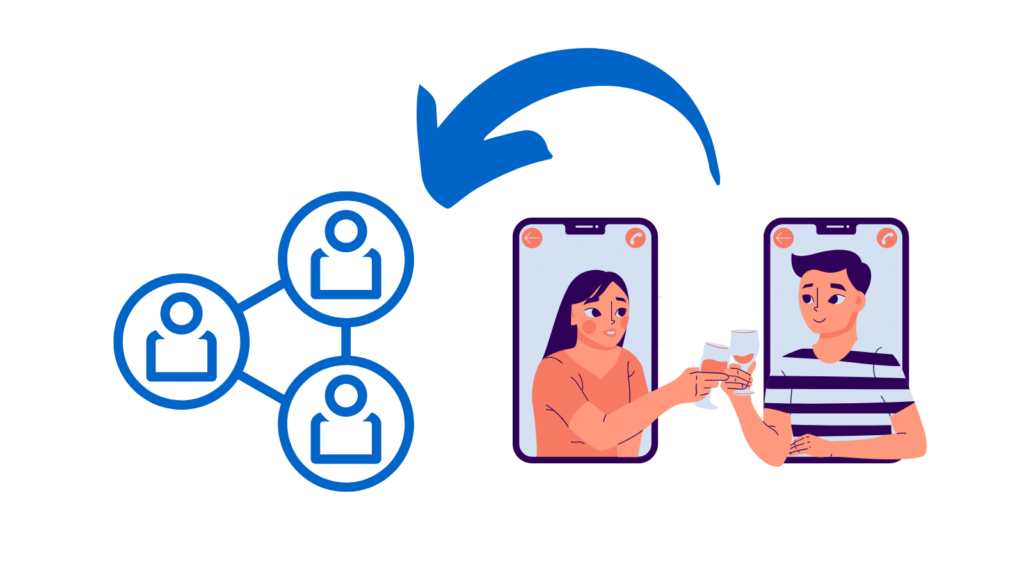 Come Out on Top
Make 2022 the year you capture untapped revenue and empower guests with meaningful gifts. Integrating this digital outlet boosts your ability to add industry leading features, helping your restaurant come out on top.
With big events such as the SuperBowl, Valentine's Day and Easter soon approaching, it's not too late to start implementing virtual gifting with your existing gift card program. Expand your gift card reach today and maximize your revenue. Contact us to get started today.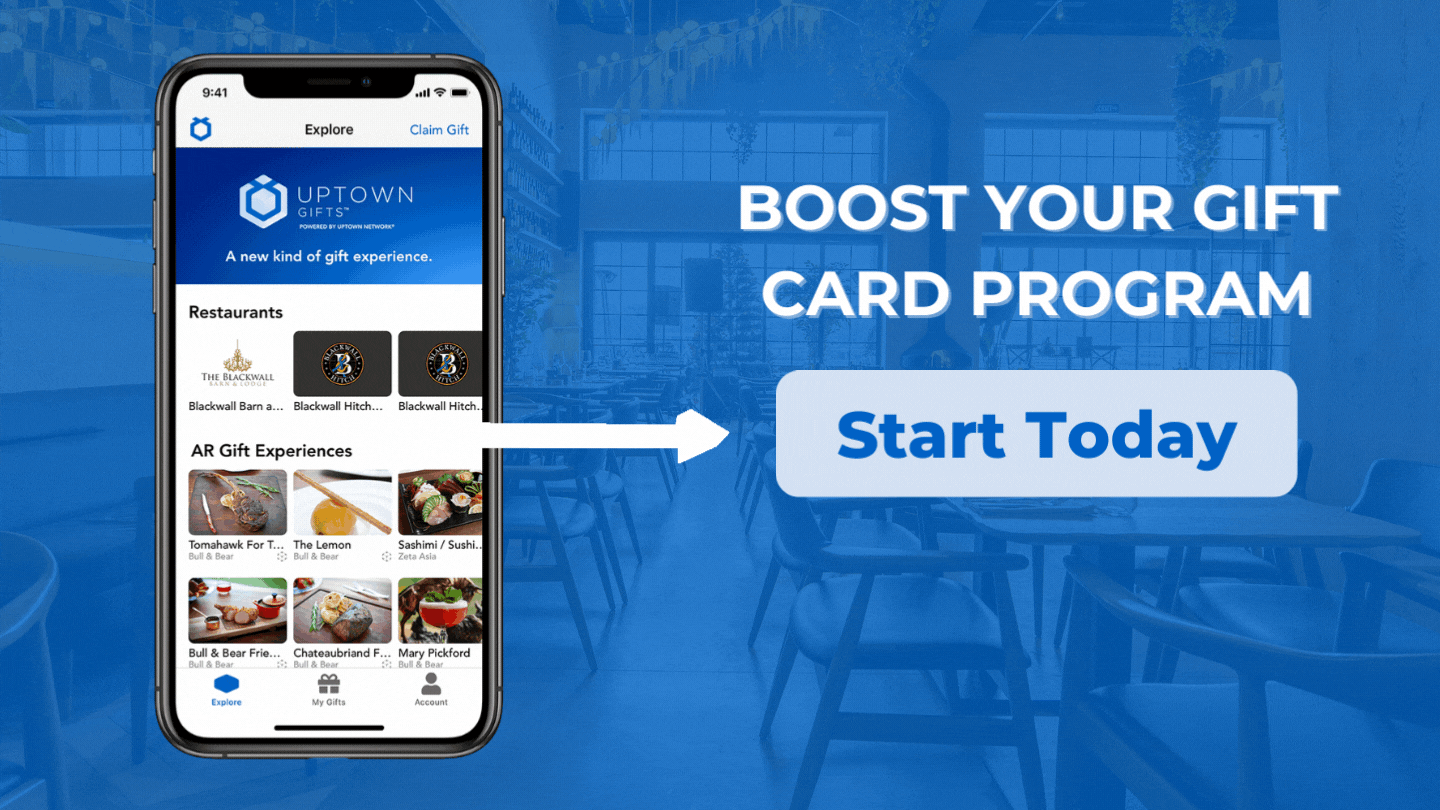 Uptown Network creates seamless hospitality technologies to provide improved operational efficiencies and great guest experiences. From restaurant tablet and QR code menus, digital gift cards, pay-at-table integrations and more, our team is available to talk through the best plan for your business. Contact us today to learn more.