How Micro-gifting Empowers the Restaurant Industry
Micro-gifting is creating a buzz in the gift card world. More personalized than a plastic gift card yet more exciting than a typical virtual gift card, micro-gifting is benefiting businesses and consumers alike with its fun, flexible approach.
Micro-gifting is easy to integrate with restaurant menus and web sites. It presents a low-touch, high-return revenue stream for short-staffed teams. It opens new revenue channels with its budget-friendly flexibility.
So, the first question is: What is micro-gifting?
Micro-gifting, Explained
Gifts are given all year round for occasions big and small. Micro-gifting is a one- to two-item gift that is flexible to meet the gift sender's budget. Its accessibility encourages consumers to send gifts more frequently, and the unique gift opening experience inspires gift recipients to pay the gift forward.
For example: Whereas guests may not be able (nor want) to send a $50 or $100 gift card for every special event, the option to send a $12 chocolate dessert to their daughter or $7 beer to a friend is appealing as a fun and thoughtful gift.
The low-touch, high-engagement format also provides a great opportunity for businesses to introduce their brands to new customers. Micro-gifting is tailor-made for restaurants and marketing experiences like dining.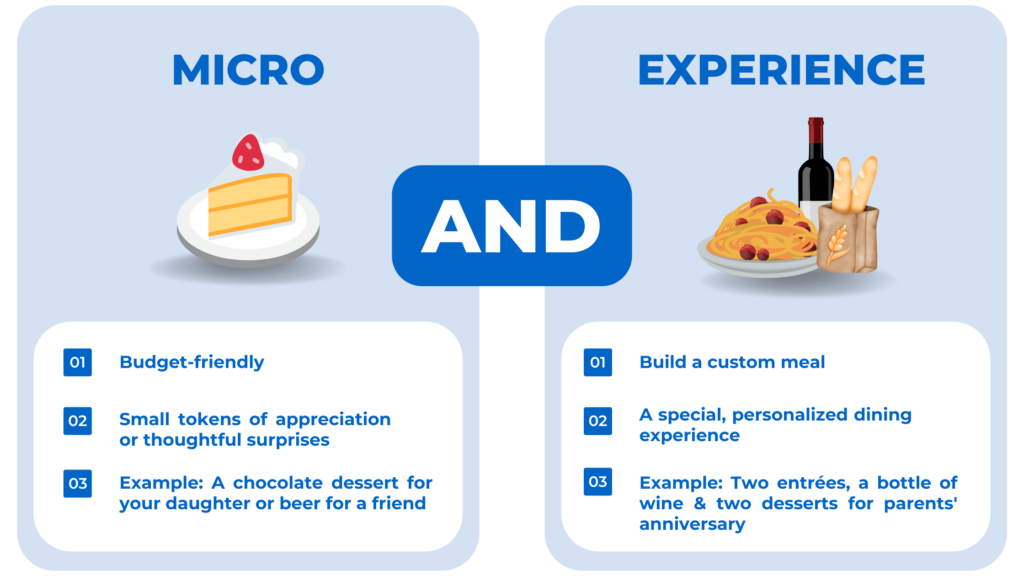 How Does Experience Dining Benefit?
Experience gifting sales also benefit from building upon the micro-gifting approach. Whereas plastic gift cards promote the mindset that the dollar amount is the spending limit, the experience is just the beginning with micro-gifting.
For example, a guest who receives a $50 gift card is likely to keep their check as close to $50 as possible. Micro-gifting shifts the perspective to focus on the person, their celebration, and their experience. Say our guest, Steve, is gifted two entrées and an appetizer. Excited, Steve chooses to make a night of it and invites his wife for a special date night. After browsing the menu, Steve and his wife decide to order a nice bottle of wine and close their special evening with their favorite desserts.
Compared with the $50 gift card, the restaurant just brought in an additional $92 through micro-gifting—Almost double the gift card sale.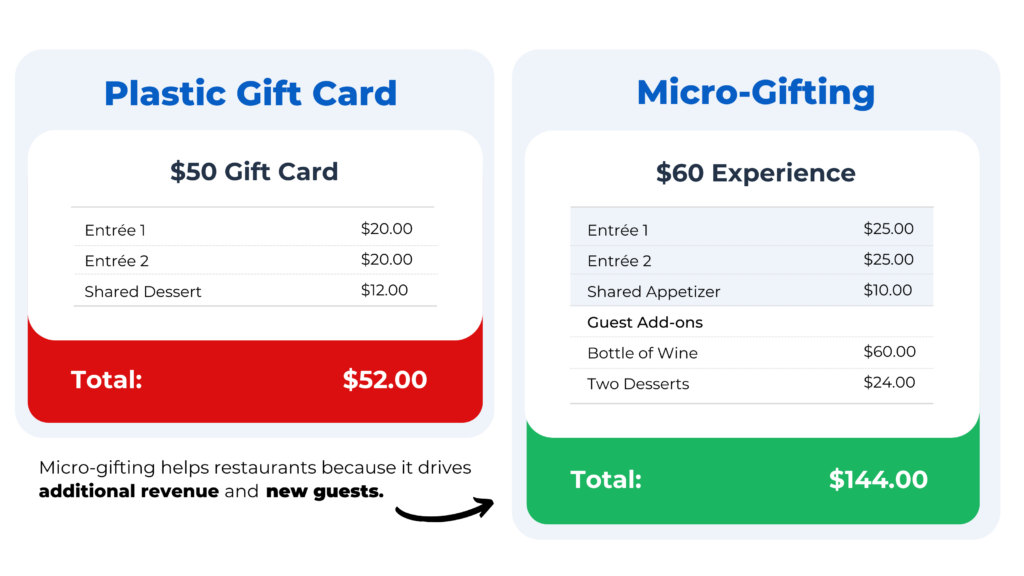 Micro-gifting provides a double upsell opportunity for restaurants. In the example above, not only did the gift sender choose to add on an appetizer, but Steve and his wife decided to add a bottle of wine and two desserts. The micro-gifting platform makes it appealing for senders to pay more to give a better experience, and it provides a second opportunity for guests to order additional items tailored to their taste.
Micro-gifting is an effective resource to promote upselling, but there's more here. While micro-gifting did help the restaurant boost its sales in the above example, it also boosted the brand's image in the minds of the guests. Micro-gifting provided a personal way for gifts to be sent, which in turn created a truly special evening for Steve and his wife. With an experience that is memorable, Steve and his wife have micro-gifting at the top of their list the next time they need to send a thank you.
Activate Your Social Network of Gift Givers
When a guest chooses to download the Uptown Gifts app to open their micro-gift, they automatically unlock access to purchase gifts for others too. This means that the more gifts are given from your business, the more your reach grows.
Micro-gifting gives restaurants the flexibility and insight to expand a social network of gift givers, unlike the "one and done" transactions that apply to plastic gift cards. Plastic gift cards are traditionally blind to information such as the gift recipient's contact information and dining preferences. With micro-gifting, however, your restaurant has visibility of these key insights, which in turn grow meaningful guest loyalty, guest recovery, and menu engineering initiatives.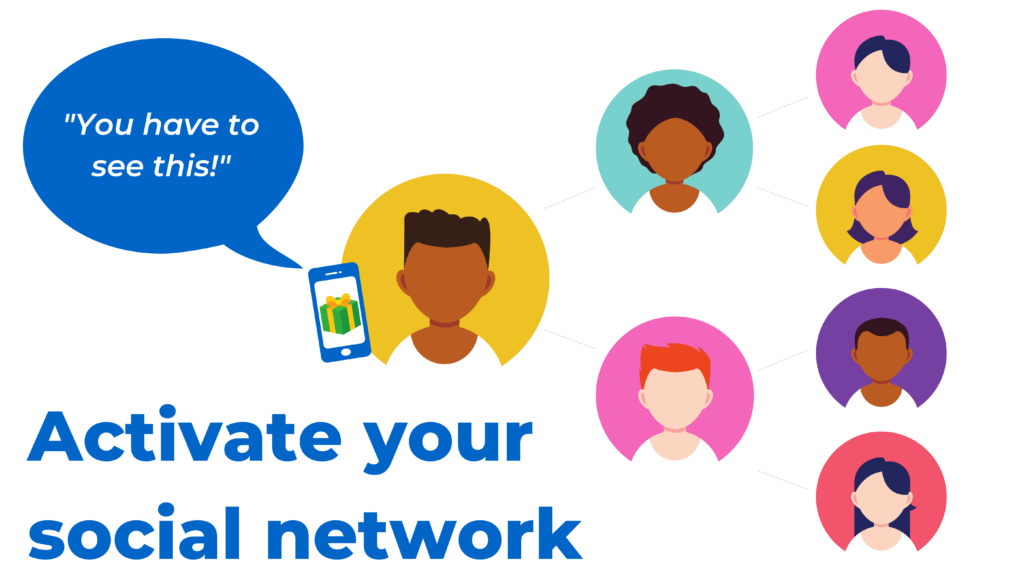 Virtual Gifting = Ultimate Personalization
Micro-gifting platforms such as Uptown Gifts provide the ultimate personalization with unique customization tools. In addition to choosing the gift's wrapping paper to match the occasion, gift senders also have the option to create a custom video or text message. The gift is sent with the convenience of an eGift card, but virtual gifting builds onto the gift by including a truly personal touch.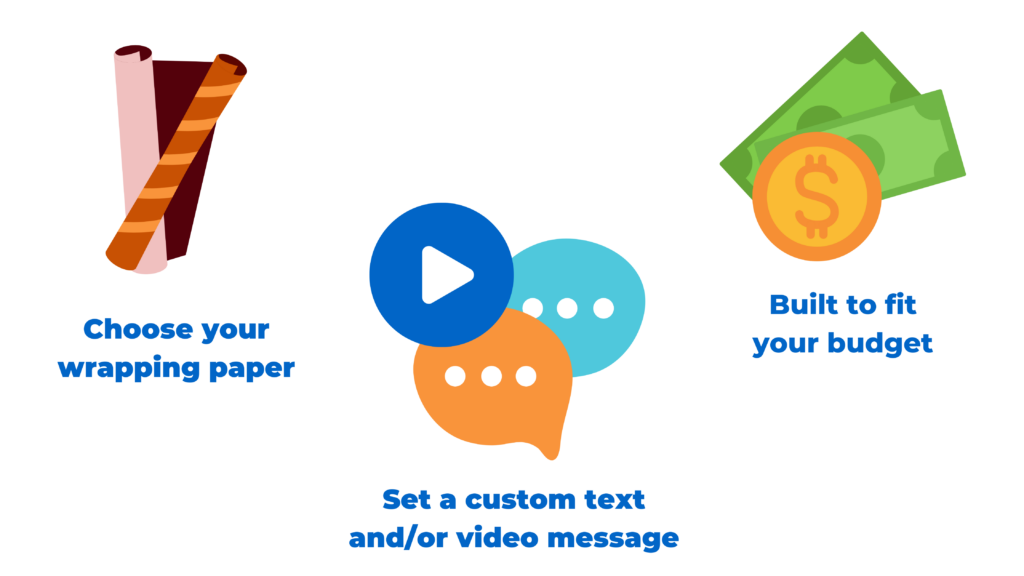 The option to build a gift around the sender's budget encourages small tokens of appreciation or congratulations more frequently, providing more opportunities for restaurants to get in front of new customers. What's more, integrating virtual gifting into restaurant digital menus and websites opens a low-touch, high-impact revenue channel that turns menus from cost centers into profit generators year round.
The ease of use and large reach opportunity also provide one more content pillar for marketing teams to use. Whether for Valentine's Day, graduations, Mother's Day or more, virtual gifting is the perfect opportunity to remind guests that you offer unique, customizable tokens of celebration and appreciation.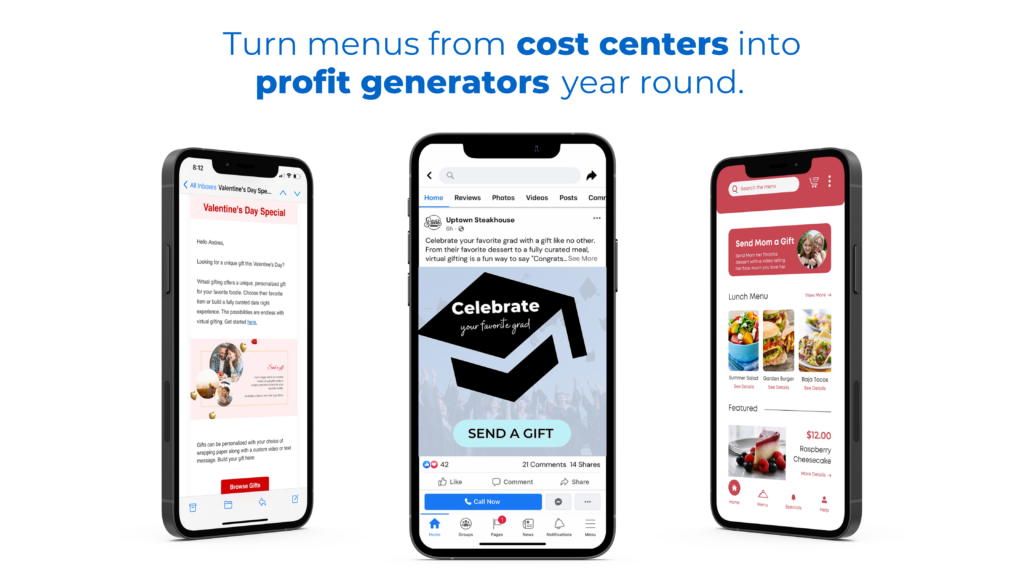 Integrating micro-gifting platforms with restaurant menus is a game-changer for capturing in-the-moment gifting. Say a guest is eating dinner at your restaurant and remembers that her mother loves the raspberry cheesecake. Through virtual gifting, your guest purchases it instantly directly from your menu and adds a note to let her mom know she's thinking of her. Making gift cards fun and accessible makes the purchase a no-brainer for guests and a special treat for recipients.
Building Momentum For 2022
Micro-gifting helps to catapult gift card sales year round. With Mother's Day, graduations and Father's Day fast approaching, there's still time to make micro-gifting available before the rush. By taking advantage of these popular gifting events, you are setting yourself up to build strong momentum for the 2022 holiday season.
Don't miss out on this big opportunity to maximize your revenue. Contact Uptown Network today to get started: