How Can I Make My Restaurant Eco-Friendly?
There are several factors to consider when building an environmentally-friendly program tailored to your restaurant, and it can be overwhelming to know where to start. With consumer passion for the environment higher from the pandemic, the hospitality industry is under growing pressure to be mindful of its impact.
Sustainable solutions are beneficial for the hospitality industry as businesses seek to participate in creating a cleaner planet. Additionally, quickly implementing eco-friendly tools will give your team the ability to provide an enhanced guest experience easily and efficiently.
While some steps take longer to implement, there are a couple of quick steps restaurants can take to jump-start their sustainability program:
Environmentally-Friendly Menus Made Easy
Implementation time: 1 day-7 weeks
Removing paper waste has become a huge initiative for sustainability across restaurants and hotels globally, and it can easily be addressed with the use of digital menus. Some businesses choose to eliminate paper menus entirely, while others choose a hybrid approach (digital menus + paper menus) to accommodate all guest preferences.
As we mentioned in our previous blog post, it takes 10 liters of water to produce a single A4-sheet of paper.1 Digital menus not only significantly reduce the amount of paper that restaurants use for menus, but they also conserve the water that is needed to produce each sheet as well.
A great additional benefit of digital menu programs is that they maximize the advantages of technology to enhance the guest experience and your revenue. From product images to detailed wine tasting notes, digital menus cause guests to gain much more than a sustainable dinner. Restaurants will even save significantly on printing costs, which can then be redirected to where the funds are needed most.
What to Expect
Digital menus are highly flexible, and their implementation time can range anywhere from 1 day to 7 weeks depending on the program. A new digital menu program can be up and running in as little as one day if you already own iPads or are interested in starting with QR codes only.
If you are interested in using a more customized, full-service support program, you may see your implementation time come in closer to 2-3 weeks. The benefit of this is that your team isn't bogged down with data entry, so the advantages outweigh the slightly longer launch time for many restaurants. Fortunately, robust digital menu programs will offer QR codes that are available sooner as an option to bridge the gap in the meantime.
Most digital menu programs now also provide the option for custom protective tablet covers as a welcome alternative to the flimsy covers available in stores. Recent supply chain interruptions have extended orders closer to 5-7 weeks, but the wait for protective covers is worth the investment. Not only do they create a better experience for guests, but they also keep your investment in its best shape through the natural demands of the service industry.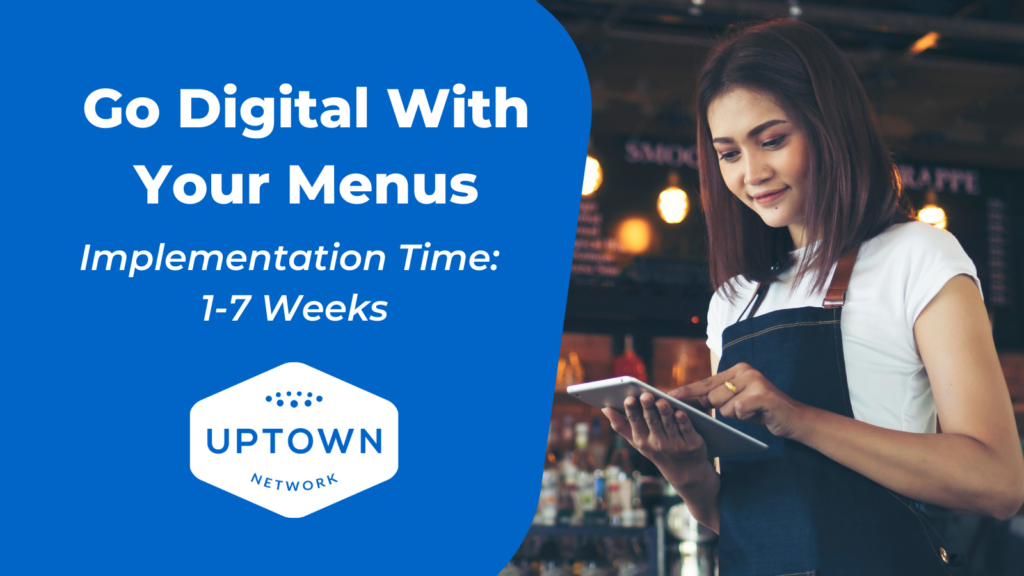 Say "No" To Plastic With Virtual Gifting
Implementation time: 1 day-2 weeks
While everyone was focused on getting rid of plastic straws, plastic gift cards somehow escaped major attention. Fortunately, eliminating plastic use from gift cards is easy with virtual gifting. Virtual gifting is a great solution to avoid gift cards made from PVC, and new programs provide a much better gift opening experience than even traditional eGift cards.
Virtual gifting is a whole additional source of revenue. Even if you have traditional gift cards in place already, virtual gifting can enhance existing programs and expand the brand experience outside of the four walls of the restaurant. Giving gifts is now as easy as sending a tweet!
Using a menu solution that integrates with virtual gifting offers quick implementation and creates a seamless experience for guests. Guests will be in awe with the memorable AR experience they can send that physical gift cards could never provide.
What to Expect
The implementation time for virtual gifting is generally 1-2 weeks. Most of that time will go into setting up the items that will be available to gift. However, that time can be significantly reduced by:
a) using a menu company that already integrates with a virtual gifting system or
b) launching your digital menu and virtual gifting program at the same time.
When digital menu and virtual gifting programs are launched together, the setup time for digital menus also largely absorbs most of the work needed to implement virtual gifting. If you are already using a menu solution that integrates with virtual gifting, the implementation time could be reduced to as little as one day.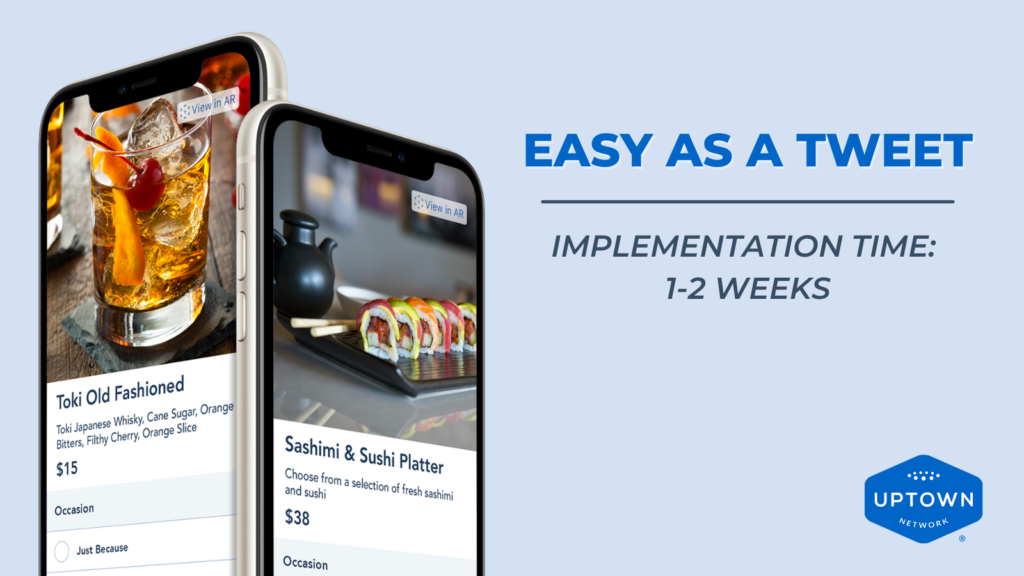 Bonus: Virtual Wine Lockers
Implementation time: 2-7 weeks
While this solution doesn't necessarily make a huge dent in your sustainability goals, it's easy to integrate with digital menus and virtual gifting. Virtual wine lockers eliminate the need for cumbersome paper logs, and they also add a fresh, organized experience for both staff and guests.
What to Expect
Similar to digital menus, the implementation time for virtual wine lockers heavily depends on what systems you already have in place. If you already use a digital menu solution that integrates with virtual wine lockers, the program can be up and running in less than 2 weeks. If you are in need of either switching digital menu providers or starting from scratch ordering iPads and custom covers, your implementation time will more realistically fall in the 2-7 week range.
Becoming environmentally friendly is no small feat, but it doesn't need to be an overwhelming journey. As we keep in mind the why behind these changes, we are reminded that sustainability helps both our environment and the long term success of our businesses:
"Many business leaders are seeing the relationship between long term success and sustainability, and that's very heartening." – Jacqueline Novogratz, Acumen Founder & CEO
Environmentally-friendly solutions are a huge benefit to any restaurant, and it has never been easier to start utilizing these digital sustainable technologies. Incorporating these solutions while working toward additional sustainable factors in your restaurant will bring us one step closer to providing a clean future of hospitality.
Guests will appreciate the experiential component of the tech solutions and the efforts being taken to being environmentally focused. Learn more about how your restaurant can easily start implementing digital menus and virtual gifting today!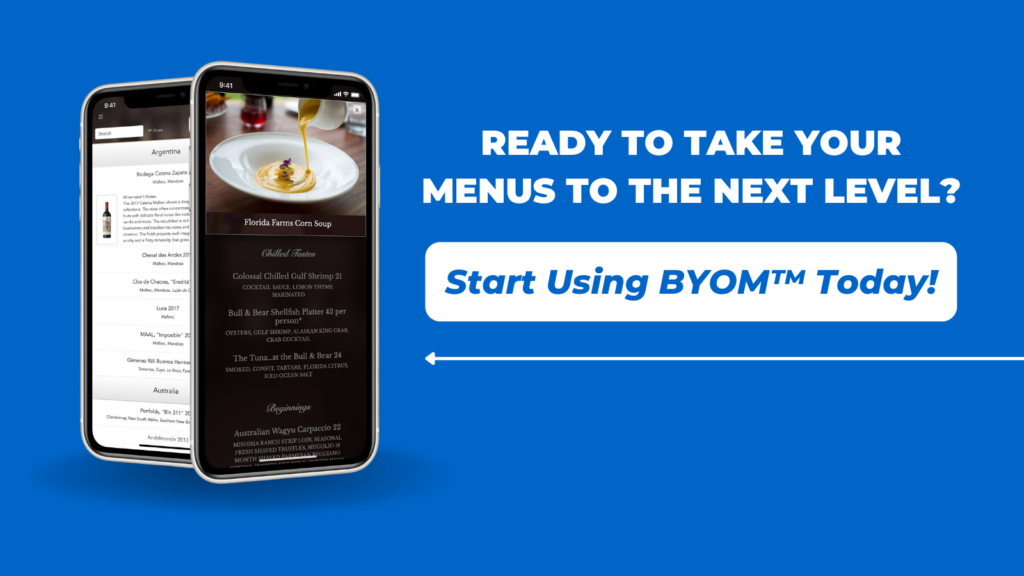 Additional Sources: