2021 Holiday Gift Guide
It's that time of year again! Our annual Holiday Gift Guide is here. We scoured the internet and found the greatest and latest gifts, so you don't have to. Whether it's for family, friends, or your significant other, there is something for everyone.
So kick back, relax, and read our top picks for the 2021 holiday season. We may be biased, but we think #3 is the coolest. 😉
1. For the ones who love pictures
Make sure to snap a photo when this present is being opened! You can send it over once the gift is being used.
Looking back at pictures from amazing moments is always a treat. By giving a loved one a Nixplay or Skylight digital photo frame, all those great memories can be displayed. Build up a slideshow, so your loved ones are met with a special memory every time they enter the room.
2. For the ones who love music
In these winter months, give your teenager or college student a beanie with a fun upgrade… It's also a bluetooth speaker! A bluetooth beanie is helpful for anyone listening to their music or podcasts while they are out and about. Whether they are snowboarding or skateboarding, now they can do it with style and rhythm.
Looking for another fun music accessory? These fashionable bluetooth sunglasses will be a hit! This is great for anyone who wears sunglasses more than hats, so they can still play their music wherever they go. Music makes everything better, especially in gift form!
3. For the ones who enjoy going out to eat
Are you wanting to send a gift from your loved one's favorite restaurant, but you're struggling to find something that's more personal than a gift card? Uptown Network is here for you!
Send someone a micro-gift or build the perfect meal for them. Gifts come complete with virtual mess-free wrapping paper and the option to send a personalized note or video. These gift card alternatives are a great way to add personalization. Plus, each gift includes a free augmented reality gift opening experience!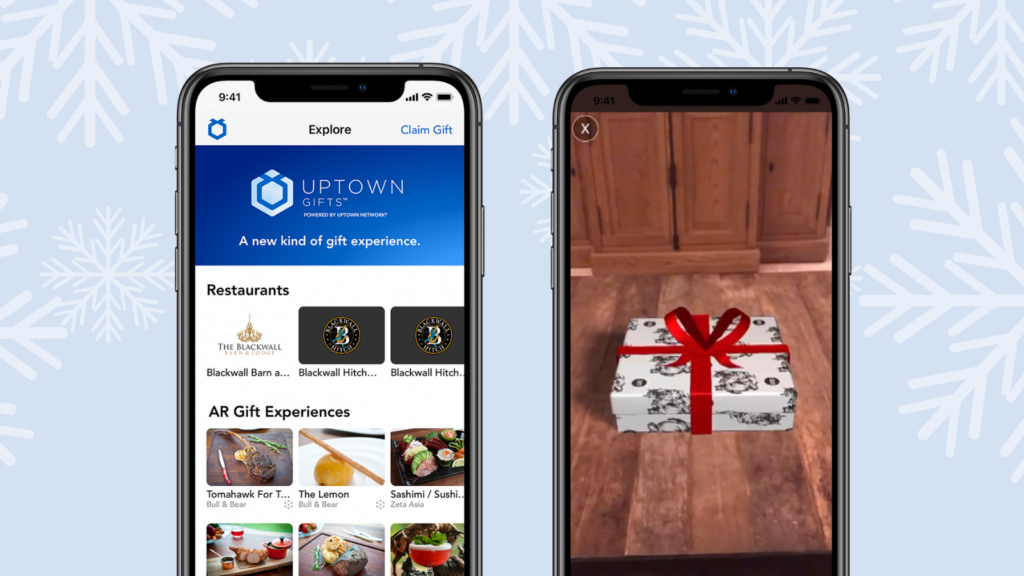 4. For the ones who love luxury
Luxury gifts are always a crowd-pleaser, and they don't need to be out of budget if you know where to look. Brands such as Tiffany & Co. and Swarovski offer home decor gifts, some as low as $100. Bring a smile to their face and a sparkle to their home without maxing out your holiday budget.
If $100 is more than you have allotted this year, Magnolia is another fan-favorite that offers many creative home decor items at great prices. Any HGTV follower will love them!
5. For the ones who get a kick out of working out
In-door workout machines have gained more popularity during 2020 and they are still going strong. Gift someone with a present that's beneficial for their health and makes working out fun! Plus, they won't even have to leave their house during their fitness journey.
Start someone's new year off right with their own personal workout equipment like Lululemon's The Mirror.
6. For the ones who always have a cup in their hand
And of course, you can't have a good workout without staying hydrated! The LARQ self cleaning water bottle is a great option for keeping water purified on the go.
If the person you are shopping for tends to prefer coffee over water, the Ember Temperature Control Smart Mug is another great option. Not only does this mug allow users to choose their temperature, but it also keeps the drink warm for up to 1.5 hours!
Bonus: These gifts are especially great for a co-worker or your business savvy relative. They'll forever have purified water or a hot cup of coffee before afternoon meetings.
7. For the ones who appreciate a personalized touch
From phone cases to jewelry to even a charcuterie board, give someone a gift that has their name written all over it…literally.
These gifts can be big or small and yet mean so much more with the added personalization. Who doesn't love a gift made just for them?
We hope this gift guide has been helpful for you in your search. We wish you a wonderful holiday season!