Drive Sales By Designing a Wine Menu That Sells
Designing a wine menu that catches the eye and entices customers to try new wines can be a challenging task. However, with the right strategies and techniques, you can create a wine menu that stands out from the competition and drives sales. 
Looking to start driving more sales and creating a better dining experience? We will reveal the secrets to designing a winning wine menu with the help of digital menus that will leave a lasting impression on your customers:
Design That Looks Like Menus, With Technology Benefits
The best wine menu design is created with the needs of your business and guests in mind. These features will help keep all aspects of your restaurant organized and running smoothly while helping guests make more informed decisions.
One of the key elements of a successful wine menu is organization. By organizing your menu by varietal or region, you make it easier for customers to navigate and find the wines they are interested in. This also allows you to showcase the variety and diversity of your wine selection. Whether you choose to organize by red, white, and sparkling wines or by regions such as France, Italy, and California, make sure to clearly label and separate each section.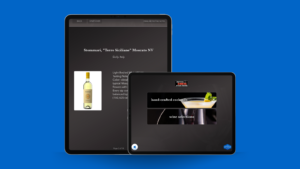 Provide Descriptive and Engaging Wine Descriptions
When designing a wine menu that sells, it's important to provide engaging descriptions. This helps customers understand the characteristics and flavors of each wine, making it easier for them to make a decision. 
Instead of simply listing the name of the wine, choose a digital menu that includes a brief description that highlights its unique qualities. This descriptive language paints a picture of the wine's aroma, taste, and origin. By providing informative and captivating descriptions, you can increase your sales by encouraging customers to try new wines and add to their dining experience. 
Digital wine menus present your menu in a visual, informative layout that makes it easier to train staff while also boosting your sales. Plus, updates can be made instantly without the administrative work of reprinting new menus. Utilizing digital wine menus not only benefits guests, but it also makes life easier for employees.
With Uptown Network's BYOM™ platform you get just that and more! The digital menus offer benefits such as beverage descriptions, beautiful images of drinks, access to a database of 100,000+ curated tasting notes, and easy sort and filter features.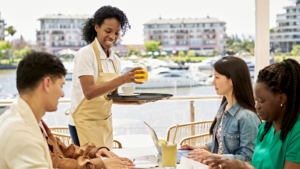 Integrations with Other Software Solutions
Combining intuitive wine menu design with guest experience technology integrations such as virtual gifting and virtual wine lockers help restaurants add new revenue streams from their menus and wine lists, increase guest loyalty, and elevate the experience that guests enjoy. 
These add-ons also allow guests to engage with other potential customers in fresh ways such as sending a virtual gift from your wine menu, making it easy for them to share their favorite drink picks with friends. With virtual wine lockers, your restaurant enjoys all the benefits of a wine locker program without the upfront cost of building physical wine lockers. The best of both worlds!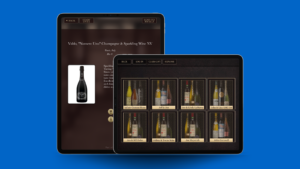 Uptown Network provides industry-leading wine menu design through BYOM. These digital menus are easy to manage with many benefits and features that are easy to integrate with. Design the best wine menu and see how it elevates the dining experience at your restaurant!
Want to learn more about BYOM wine menus? Elevate your restaurant's menu today: