Rejuvenate Spa Revenue With Digital Menus
Hotel spas are a welcome safe haven for guests looking to slow down and rest from their busy schedules. Even if the property's spa isn't the main reason for guest visits, there are several upselling opportunities that hotels can take advantage of.
As relaxing as hotel spas are, however, a new study from Hospitality Technology shows that 39% of travelers are concerned about COVID-19 exposure from hotel spas. With such a large percentage of potential spa revenue in jeopardy, hotels can take the following steps to increase guest confidence:
Deliver a Seamless Experience
The guest experience starts from the moment they book a reservation with you. Whether through reservation confirmations or guest messaging platforms, communicating additional services is key to capturing your fullest revenue potential.
Fortunately, digital menus make it easier than ever before to provide information such as spa menus, services, and health safety information. Easily updatable and visually engaging, digital menus gain guest confidence even before they step foot on the hotel's property. This not only sparks more excitement about their vacation, but it also opens the door to effectively communicate services that they may have otherwise overlooked.
There are also big benefits for your team: no more juggling print, copy, and design jobs on multiple systems. On some platforms, both self-service and full-service accounts are equipped with tools to easily create spa promotions and utilize your menu as another marketing tool. Accommodate all guest preferences by giving them the option between QR code menus or tablet menus. Incorporating a versatile menu platform empowers employees, strengthens hotel operations and provides an exceptional experience for guests.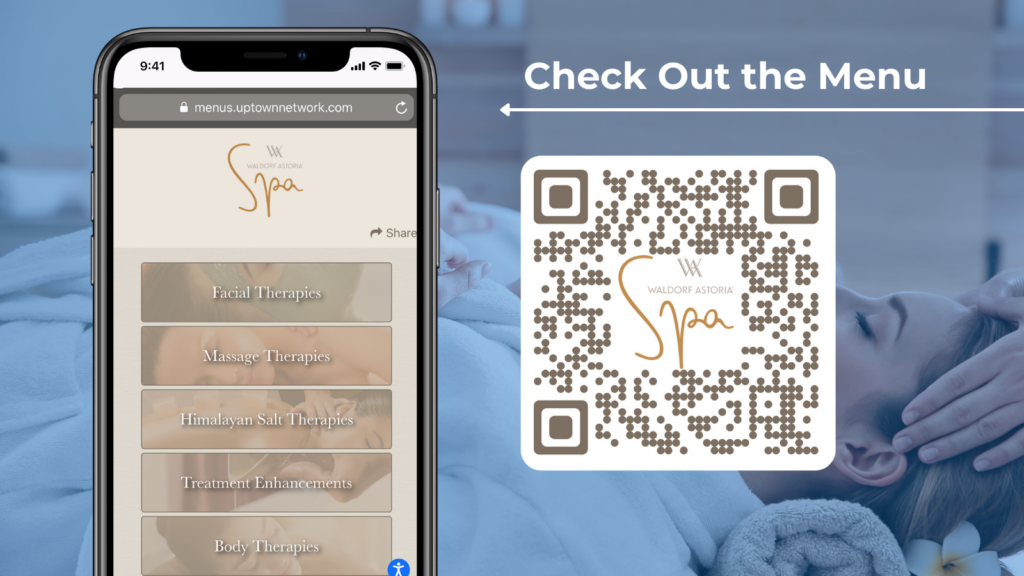 Viewing on your phone? Click here to see the spa menu.
Guests Will Be Your Next Brand Ambassador
Guests will be your very own brand ambassadors once they experience your hotel spa. Through digital menus, guests can send virtual gifts to share their favorite experience with others. With Uptown Network's virtual gifting platform, Uptown Gifts, guests have the ability to give experiences to friends and family in lieu of impersonal paper or plastic gift cards. Mom can send her daughter a facial—complete with augmented reality preview.
This new and exciting experience will get others talking and bring in new guests to your property. Bonus: Guests will appreciate and respect the lengths you'll go to create a safe, contactless environment for them.
Confidence in Hotel Spas
Through these new menu initiatives, guests will have more confidence not only booking a stay, but also reserving a spa treatment during their time at your hotel. It will keep guests on property and enjoying their getaway.
Begin this new journey with contactless menus to give guests a confident stay. Learn more about how your hotel can easily start implementing digital menus and virtual gifting in your spa today!