Sustainability Tips for Using Digital Solutions 2022
Sustainability has been a central topic of discussion and the priority of sustainable living has heightened in communities everywhere. As time goes on, guests are giving more attention to how restaurants are lending a hand to help preserve our planet by the practices they follow in their dining rooms. Leaning into providing zero waste, digital solutions are an easy step for restaurants to take while enhancing the guest experience.
It is estimated that one restaurant can produce up to 150,000 pounds of waste per year. This is a large number for a single restaurant, but imagine that number multiplied across every restaurant globally. Adopting digital menus and virtual gifting trends provides the industry with easy steps toward preserving a clean planet and reducing unneeded waste for the following three reasons: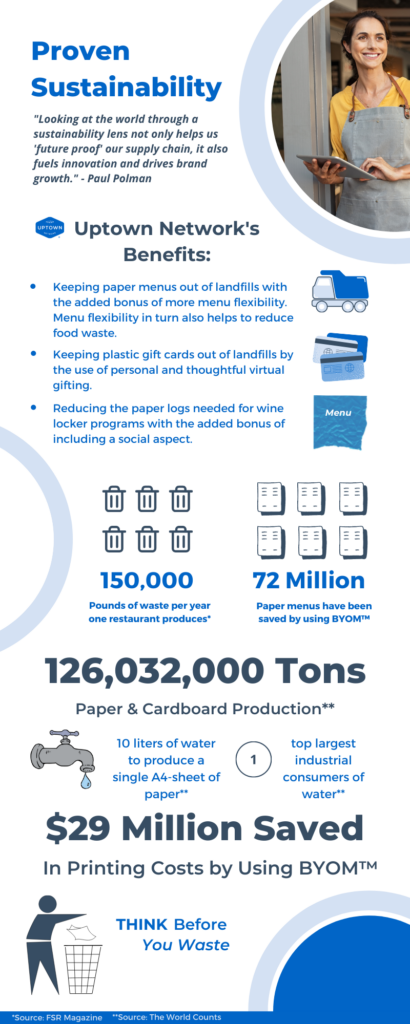 Keeping Paper Menus Out of Landfills
Printing and reprinting of menus has long-term effects, both on restaurants and the environment. According to The World Counts, the paper industry is one of the top largest industrial consumers of water in Western Countries. There are many drawbacks to using paper menus, and digital solutions can help reduce the drastic use of them.
By incorporating digital menus in restaurants, management can efficiently add a full menu to iPads or guests' personal phones. Establishing virtual wine lockers for wine lovers also eliminates the need for the paper logs that are typically used in wine locker programs. As an added bonus, virtual wine lockers introduce a social aspect to your wine program.
Solutions that are digital not only help the environment by keeping paper out of landfills, but they also contribute to the experiential component for guests. In addition to eliminating the need to reprint menus, guest experience and staff productivity are enhanced with the ability to access tools such as wine tasting notes, product descriptions and images.
Reducing Food Waste with Menu Flexibility
Food waste can be reduced by incorporating the right tools. Technology solutions for restaurants assist with inventory, and they help identify items that don't need to be reordered. While the guest-facing piece enhances guest experience, the backend supports management's organization of inventory. Having this menu flexibility influences the sustainability aspect while also creating an easier way to keep track of stock in the kitchen.
Eliminating Plastic Waste from Gift Cards
Virtual gifting is becoming an extraordinary solution for reducing plastic waste, and it's quickly becoming the future of gift giving. Instead of gifting an impersonal plastic gift card that will eventually end up in a landfill, make someone's day by sending a virtual gift with augmented reality. No plastic or unneeded waste involved, just memories and fun experiences. Restaurants can use this gifting capability easily and efficiently by integrating Uptown Gifts with their BYOM™ digital menus.
Maintaining our earth will help not only our society but also the generations to come. Fortunately, technology is allowing us to find alternatives to make our environment better without waste. Learn more about how your restaurant can start utilizing digital solutions to create a better tomorrow.