3 Ways Digital Solutions Benefit Teams During Labor Shortages
Throughout this past year, the restaurant industry has been combating issues with labor shortages and inflation. With the combination of short-staffed teams and busy restaurants, management is finding it hard to continue giving guests an exceptional experience. 
Fortunately, there's an easy way for you to relieve the stress that's on your team while effectively supporting a great guest experience. All you need in one digital solution:
For a better experience for both guests and staff, take advantage of these digital solution benefits:
Staff Training
Staff can easily look at digital menus on their own time to learn more about the restaurant and menu. This allows for more time spent with guests without taking time away from managers.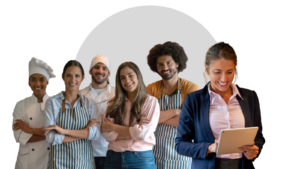 Bonus: Staff retention goes up as digital menus add extra gratuity by naturally upselling.
Daypart Timers
Menus can be a hassle to change manually throughout the day. Luckily, there are tools available to help restaurants streamline their menu transitions while maximizing new revenue opportunities and allowing employees to focus their time where it's needed most.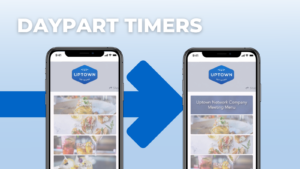 Daypart timers change out your menu automatically so you and your staff don't have to.
This feature helps restaurants maximize marketing potential for offerings such as special events, promotions, and seasonal menu changes while also making menu management simpler.
Printing Costs
Save money and take part in saving the planet.
By using digital menus, restaurants are able to make conscious cost saving decisions. Put that extra money saved into other areas and come out on top. Digital menus limit the stress of reprinting menus while also reducing paper waste.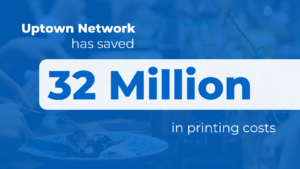 Digital solutions like BYOM™, provide an extended amount of features that elevate your restaurant. iPad menus provide images and descriptions with the industry's best database of over 100,000+ curated tasting notes that will set your business apart from the competition. Include virtual gifting and wine lockers for an additional bonus that will be a sure favorite for guests.
Want to learn more about digital menus? Uptown Network has the solutions for you: