3 Easy Steps To Adding Virtual Gifting To Any Menu
The holidays are coming up fast and that means it's time to strategize your restaurant's plan to boost gift card revenue.
Virtual gifting has been making a splash in the gifting world—especially in restaurants. This innovative gift card approach adds an essence of fun to your gift card program to separate your business from the rest!
The big question is, "Where do I start and how do I add gifting to my menu?"
You're in luck because adding virtual gifting to your restaurant's menu can be done in 3 easy steps. Follow the directions below to have your Instagram-worthy gift card program ready for the holidays:
Step 1: Determine how you want to use your program
The flexibility of virtual gifting makes it great for a variety of use cases, including:
A new, standalone gift card program for your restaurant.

Standalone is a great option if you don't already have an existing gift card program or if you want to liven up your current program. 

A complement to your existing gift card program.

Add virtual gifting as a complement to your existing program as a fun option to gift with a virtual twist! The personalization of virtual gifting encourages more gifting sales while also creating a social buzz from the augmented reality features.

Guest loyalty and retention.

Virtual gifting can be used to revive your

current loyalty

and guest retention program through its personalized video features and unique natural upselling approach.

Social media monetization. And finally, virtual gifting provides a way to monetize your social media profiles. Through easy social sharing features and engaging augmented reality gift opening experiences, virtual gifting turbocharges your digital word of mouth without any extra effort from your team.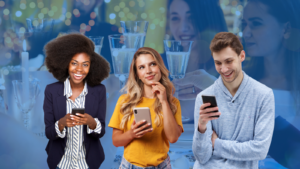 Virtual gifting in any form enhances the gifting experience at your restaurant and encourages bigger check averages, which in turn also benefits employees as they receive better tips. The advantages to virtual gifting are numerous, enhancing your gifting program as a whole.
Step 2: Choose your gift card provider
There are a lot of providers out there, but you want to choose one that guests enjoy and will be motivated to use again. 
Virtual gifting is a unique, exciting experience when done correctly. With programs like Uptown Gifts, guests are able to send fully customized, thoughtful gift card experiences directly from your menu in augmented reality. Add a personal video message and wrapping paper as a fun bonus!
Uptown Gifts is easy to integrate with your digital menu. Systems like BYOM™ come ready to integrate with virtual gifting right out of the gate to create an enjoyable, seamless experience.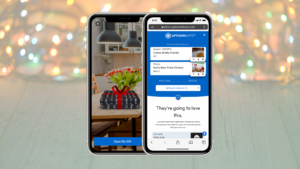 Step 3: Easily connect your account to receive payments instantly
Uptown Gifts harnesses the power of Stripe to give guests a plethora of simplified payment options and to get you paid, fast:
135 currencies accepted

100 payment options offered including: Apple Pay, Google Pay, Alipay, and more.
Stripe integration means fast and easy payment processing for your restaurant. Instantly receive gifting money and gain revenue.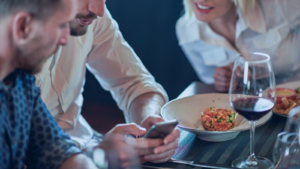 Adding virtual gifting to your menu is easy and seamless with the help of Uptown Gifts. Boost holiday gift card sales and create a unique experience for guests with one simple solution.
Start using virtual gifting today to see the difference in your gift card program. Contact us to get started.