4 Technologies That Are Helping Restaurants in 2022
Have you been wanting to establish a contactless business this year, but don't know where to start? Implementing digital solutions has been a priority for many in recent years, and it continues to gain importance as guest preferences trend that way. While some restaurants rushed into QR code menus and contactless payment solutions at the start of the pandemic, they are now reevaluating their options to increase operational efficiencies during the ongoing staff shortages.
Digital solutions have been helping restaurants a lot this year, and it's important to know which products are best for your brand. This guide explains four technologies that are becoming widely popular and are easy to implement:
1. Digital Menus
QR or tablet menus can generate amazing guest experiences with your brand's menu while also increasing revenue. The key is choosing the right product that gives a great user experience without making menu management more difficult for your team.
Digital menu iPads benefit restaurants by providing a safe and clean dining environment. These menus become an extension of your team by showing guests everything from wine tasting notes to images of the dishes. Providing this additional information supports employees during staff shortages, and it helps guests walk away feeling like they made informed decisions.
With implementation time anywhere from 1 day to 7 weeks depending on the program, digital menus are a quick solution to empower staff and upsell to guests. Adding digital menus to your business opens the door to incorporating other features quickly and easily, too.
Other industries, such as hotels, also benefit from digital menus. In a 2021 Hospitality Technology Case Study, 47% of hotel guests said they prefer contactless check-in and payment. Digital menus allow check-in packets to be viewed from a personal device, and this also makes it easy for hotel properties to immediately share the latest information about amenities directly at guests' fingertips – No more packet reprints!
2. Virtual Gifting
The holidays are coming quickly, and virtual gifts are positioned to be a strong contender in the midst of looming supply chain backups. Here, the key is to make the virtual gift card experience fun, personal, and exciting. Fortunately, virtual gift cards can now be added directly to your digital menus for increased visibility.
Virtual gifting can be up and running in as little as 1 day, giving your guests more time to buy. Virtual gift cards can be used as a standalone product or as a complement to your existing gift card program.
Digital gifts are an improved giving experience in comparison to the plastic or even e-gift cards that often lack personality. Features such as custom video messages and augmented reality present opening experiences help to make these new virtual gift cards a truly special gift.
Virtual gifting is also a great avenue for loyalty programs and guest recovery. Programs such as these benefit by adding that next level of personalization to give loyal customers a thoughtful, creative gift. Other reward programs are becoming too familiar and the excitement is no longer there. Virtual gifting helps bring back the experiential component for guests, and it provides industry-changing fun.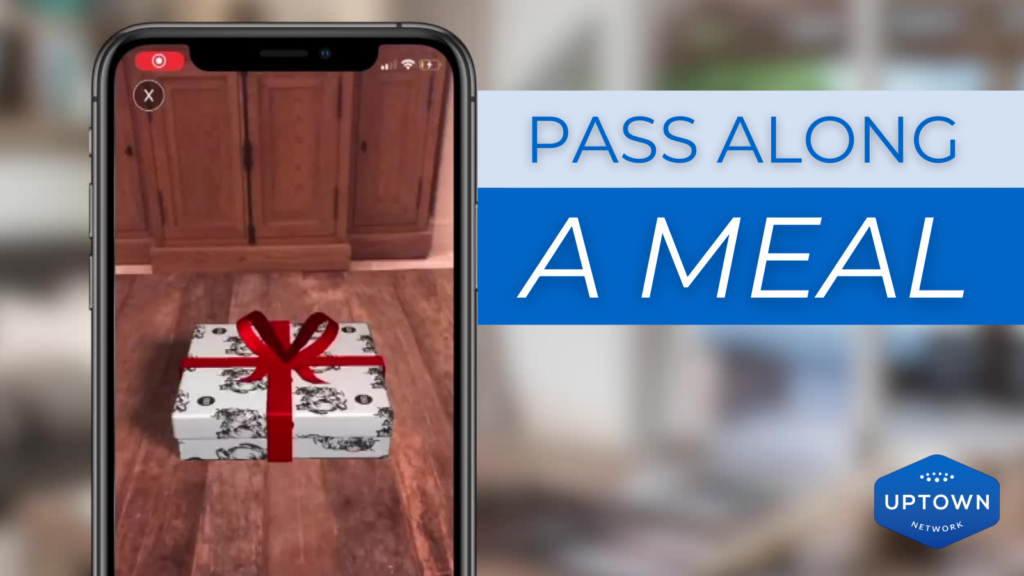 3. Pay-at-Table
Turn tables faster, increase average spend, and get more tips. That's the power of pay-at-table. Used alone or in integration with your digital menu software, adding pay-at-table is simple. Implementation time is often less than 1 week.
For the best experience for your guests and staff, choose a digital solution that uses the same QR code for both menus and payment. This keeps all menu operations seamless, so your team can focus their time where it's needed most. It also reduces the number of steps it takes for guests to complete their dining experience.
Finding a payment solution that utilizes the same QR for every table is also very beneficial. This eliminates the need for tracking down unique table tents every time a table is moved, and it gets rid of the risk that customers will run into frustration down the road.
4. Virtual Wine Lockers
Within 1-2 weeks, your guests can experience social media for wine sharing. Just when you thought wine programs couldn't be any more fun!
Integrate lockers with your wine program for a contactless, fun way to share wine. One of the advantages to using virtual wine lockers is that you don't need to build extra guest-facing storage in your dining room, but guests can still experience the perks of belonging to your wine locker program. This gives your restaurant a great way to promote wines and keep guests engaged.
Guests are able to share their wine picks to members and non-members, giving more promotion to your brand. With 100,000+ tasting notes and social sharing features, it's educational for not only guests but also staff. Implement virtual wine lockers on your property to build a community that adds a contactless twist to the fun.
Digital solutions are playing an increasingly important role in the hospitality industry, and there are now options that are easy to implement quickly to address the industry's current challenges. Learn more here about how digital solutions will benefit your property.
Uptown Network® is the premier digital menu solutions provider of the hospitality industry. Building upon years of hospitality experience and leading-edge software leadership, our team services restaurants, hotels, cruise ships and more of all types and sizes.
From standalone products to a full environmentally-friendly suite, our team of experts is available to help you build the program that is right for you. Tablet menus, QR codes, virtual wine lockers, and virtual gift cards have taken the hospitality industry by storm, often without much guidance on how to successfully launch a digital solutions program. Uptown Network's team is here to help you choose the best option with confidence, so you can streamline operations and get back to where you are needed most.