The Benefits of AR Gifting for Personalized Gift Giving
Are you looking for creative ways to give gift cards? Augmented reality (AR) gifting is a new and exciting way to engage with customers and create personalized gifting experiences.
Personalized gift giving has never been easier with virtual gifting. By using AR technology, businesses can offer unique and interactive gifts that leave a lasting impression on their customers. Learn more about how AR gifting can help your business stand out and build customer loyalty.
AR gifting creates a unique marketing strategy for restaurants by using augmented reality technology to create personalized and interactive experiences for restaurant customers.
With Uptown Network AR gifting, restaurants can offer virtual gifts that customers can interact with, such as an augmented reality gift opening experience with customized video or a tour of the restaurant with the gift in view. This technology allows businesses to create memorable experiences to help build brand loyalty and increase customer engagement.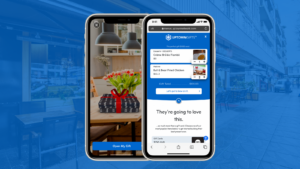 Integrations and Benefits
Digital menus can generate amazing guest experiences with your brand's menu while also increasing revenue. Finding the right software for restaurant menus makes integration easy and enables guests to share the menu as they're spreading the word through sent gifts.
With restaurant tablet menus, it's easy to integrate benefits such as AR gifting. Systems like BYOM™ make it simple for restaurants to integrate their digital menus and virtual gifting programs to create an enjoyable, seamless experience. Integrating even helps turbocharge word-of-mouth and helps restaurants monetize their social media platforms. The benefits are endless!
Bonus: by integrating AR gifting with menus, guests have the opportunity to create curated dining experience gift bundles with updated menu items, improving the dining experience and drawing attention to specific menu items as you make them available.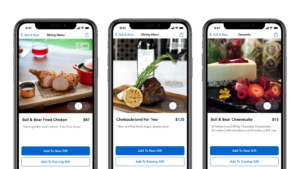 How Does AR Gifting Personalize Gifting?
AR gifting allows businesses to create personalized experiences for their customers in new ways through augmented reality technology. Add creative wrapping paper, a personal video message and voila! Guests have the opportunity to send a creative and personable gift.
This personalized experience can help build brand loyalty and increase customer engagement, leading to higher sales and customer satisfaction.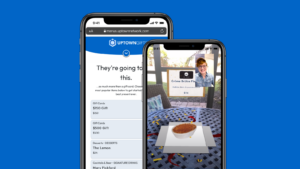 AR gifting helps businesses stand out from their competitors and showcase their innovative and cutting-edge approach to restaurant tech. Not only this, it's also easy to use and makes sending gift cards fun and exciting for guests.
Adding virtual gifting to your menu is easy and seamless with the help of Uptown Gifts. Boost gift card sales and create a unique experience for guests with one simple solution.
Start using AR gifting today to see the difference in your gift card program. Contact us to get started.